October 17, 2022
Podcast Content Marketing: Best Practices for Marketers
Creating an engaging podcast takes a lot of effort. However, investing in podcasts is always worth the hassle. Thus, you should incorporate a Podcast Content Marketing Strategy in creating each of your podcast episodes. As a result, marketers can ensure that their content outshines the competition. But how will you stand out with "over two million podcasts" available on the Internet?
If you're new to the podcast industry, you're probably searching for ways to promote and advertise your podcast. Moreover, engaging in Podcast Content Creation is tied to other Content Marketing Strategies that spread brand awareness of your podcast channel to your target audience.
What is Podcast Content Marketing?
This refers to any Marketing Strategy you use to promote your podcast show. Furthermore, you can advertise your series to increase online visibility and effectively reach your target audience.
You can apply various ways to make your show shine brighter than other content creators'. After all, 82% of marketers plan to continue investing in podcasts or audio content. With the right tools and a number of Podcast Marketing tactics, you can certainly boost your show's visibility in no time.
Podcast Content Marketing Best Practices
Here's a list of Content Marketing best practices to digitally market your audio show or series effectively. Then, marketers can produce something that can hook a loyal audience from over 353.7 million podcast listeners around the globe.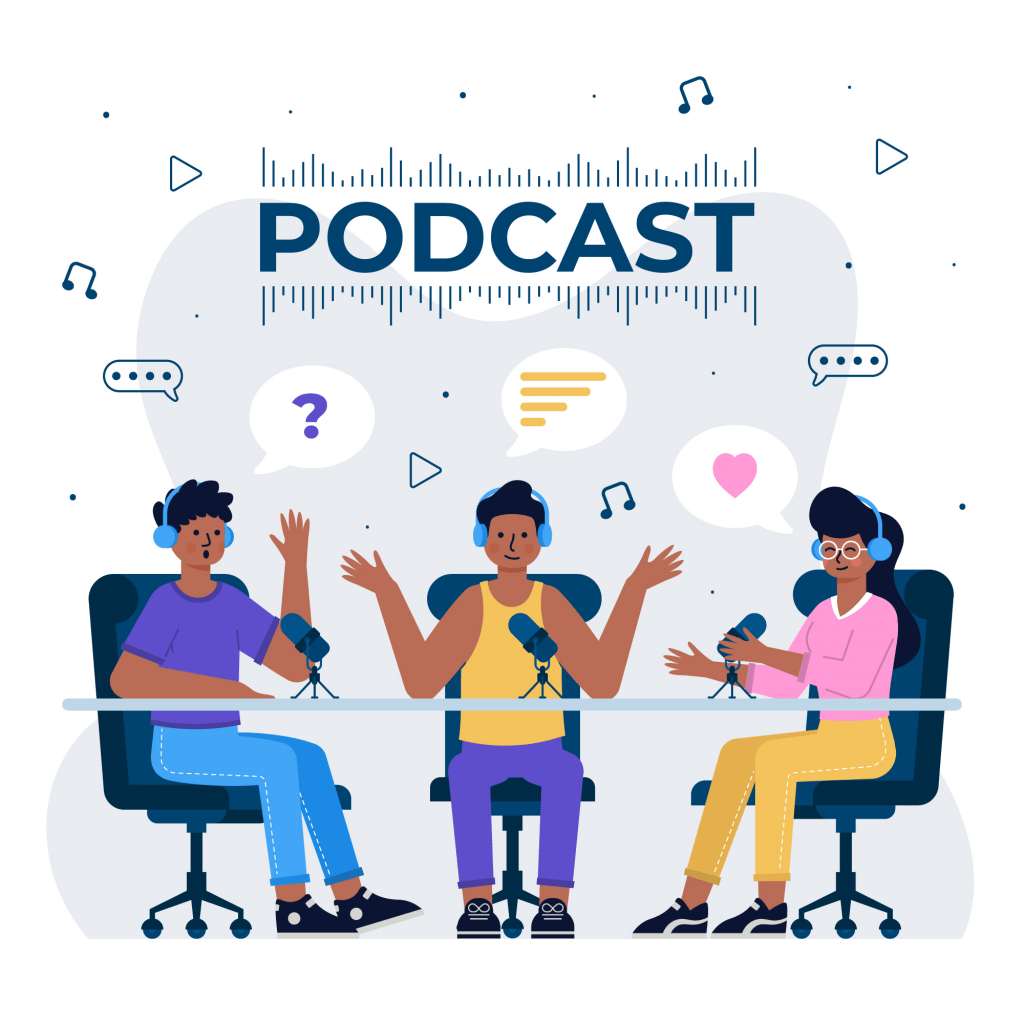 Create a Podcast Marketing Plan
As with many Marketing Strategies, before you start doing something, you have to make a plan to outline the things you want to achieve. The same goes for creating a podcast show. Thus, having a plan is an essential Podcast Marketing best practice you shouldn't miss. You should also combine it with Podcast SEO Best Practices. Your plan and Podcast SEO Strategies will effectively help boost your reach. Thus, you should create an outline that includes the following:
the processes of creating and producing your podcast episodes;
your target audience; and
the platforms you'll publish your podcast on for your target audience's listening pleasure.
Be Creative With Naming Your Podcast
This is considered the most influential factor in Podcast Content Marketing. After all, what you decide to name your podcast will make or break it. Thus, naming your podcast after your company or yourself won't easily captivate your target audience. Instead, you must develop something that can provide allure and build up the listener's interest in your show.
Build a close relationship with your intended listeners by creating and focusing your Content Marketing Ideas around their interests to encourage them to listen to your content.
Determine Your Target Audience
One sad truth is your podcast isn't suitable for everyone. However, it's certainly possible to attract a lot of ears to listen to your podcast by throwing lots of resources into promoting your show and generating an immense huge number of listeners and downloads.
However, not having a definite list of target audiences isn't a wise plan, as you can't just settle for whoever finds your podcast. This method can only create quick and temporary spikes in your listener analytics, so why not identify who your target audience is? Thus, marketers will be able to create content that could build up a long-term listener or subscriber base.
Moreover, when identifying your target audience, you must consider the following:
Demographics. This includes age, gender, profession, and geographic location.
Psychographics. This covers the audience's lifestyle, personality, values, opinions, and interests.
Firmographics. This refers to the organization's location, the number of customers, the industry, revenue, etc.
Moreover, you must consider podcasts as another pillar supporting your brand's Online Marketing.
Add Lots of Stories to Your Episodes
The most effective way to build a connection with your audience is by telling stories. They build up neurological responses in listeners' brains which help them emphasize and focus on the narrator. Thus, stories are more easily remembered compared to any other type of information. In addition, you can apply the standard story structure:
Commence your show with a setup;
Build up a confrontation; and
End with a resolution.
Create an Eye-Catching Podcast Cover
Forget what someone told you about not judging a book by its cover. To market your podcast effectively, you must have an on-point podcast cover. This is sometimes referred to as a logo. Therefore, you must develop a cover that could catch a listener's eye, thus stopping them from scrolling past your show. Here are some cover moods you can use when creating your podcast cover:
A cover that contains fun, energizing, informative and non-corporate.
If your podcast's niche is more technical, you must create something that's analytical, technology-driven, professional, and straightforward.
Something inspiring, whimsical, and informative.
Remember to create something that can make a good impression on your target audience.
Create Content that Engages with Your Community
Many Social Media users desire to connect with and build a community with the brands they follow. Thus, you should consider having some community-building activities with your audience. You can create community engagement by asking your audience to go to your different Social Media Platforms. There, they can ask you some questions, leave feedback, and participate in an audience pool.
With these tactics, you encourage a higher rate of conversation that could increase your visibility online. Moreover, this can also reach your listeners' friends with similar interests and encourage them to go check out your podcast show.
Utilize Up-to-Date Hosting Services
Hosting here doesn't refer to a person who hosts your show but to the website hosting your podcast. Furthermore, when choosing a Web Hosting service, you'll have to make sure that they provide the following:
A functional and smooth podcast player;
A podcast page on the host's site;
Web pages for every episode; and
Analytics.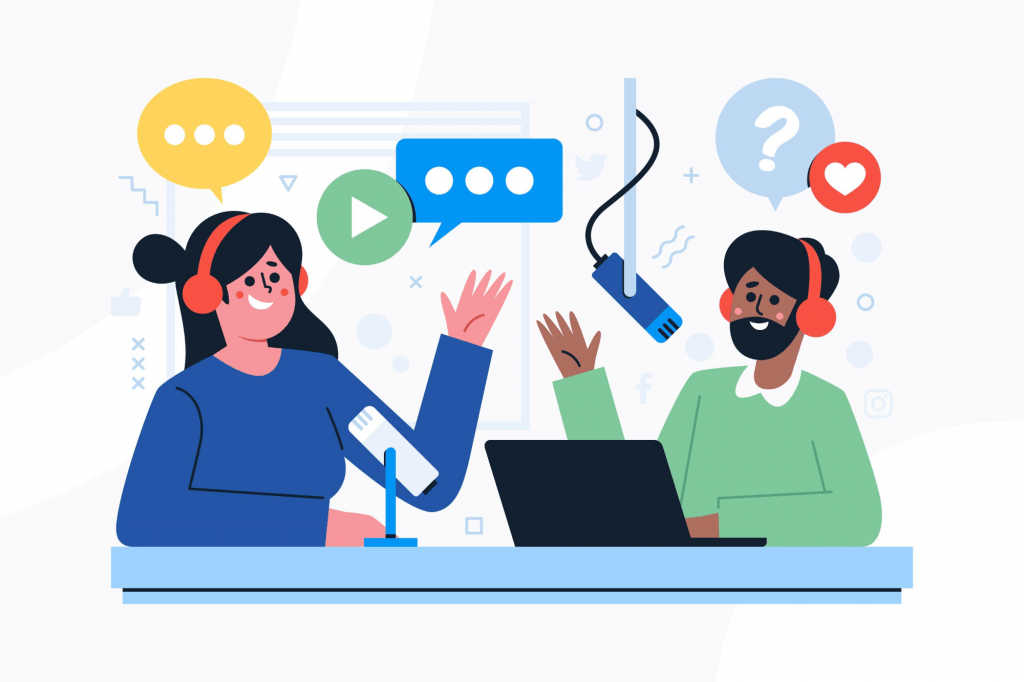 Design a Dedicated Podcast Page
To make sure people easily find your podcast, you must create a page for it. In addition, having a page dedicated to your podcast can power up your SEO efforts, making your show more visible to potential listeners. You can choose from either of these options:
You can create a dedicated page on your website, whether it's the business' leading site or sister sites; or
Design and build a website dedicated to your podcast.
Whatever option you decide to follow, ensure that every episode of your podcast has a separate, dedicated page.
Final Thoughts
You must see your Podcast Content Marketing as another method for Content Marketing. Fortunately, the given Podcast Marketing best practices above don't require too many of your resources. But, although it doesn't need much, it takes a lot of effort to make it work. So, start refining your podcast content and build relationships with the right audience.