May 15, 2022
What are Push Notifications & How They Help Your Business
So you're scrolling through your phone, and then suddenly something pops up. Well, that something is, as you might have guessed already, what we call Push Notifications. You've probably experienced it at some point. Marketers will know that it's one of the many must-try Mobile Marketing Strategies. But why do they matter?
Then you're in luck. Here's what they are and why we use them.
PUSH NOTIFICATIONS AND ITS DEFINITION
Simply put, Push Notifications are clickable pop-up messages that appear on your desktop or mobile device. It's essentially one of the better marketing tools for businesses with a website or an application.
Such Notifications are a way to communicate with your audience or users. So, the notifications deliver meaningful, time-sensitive information or messages directly to users' devices. Thus, you can keep your audience engaged even when they're not on your app or site.
As a result, you can connect with them more easily. This is especially crucial since 85% of people have a smartphone. The rest are on their desktops, but both channels are open to marketing.
Aside from that, studies have found that the average internet user's attention span is only eight seconds. Thus, Push Notifications are a good tool for marketers to address their audience. They can say what they want to say in only a few milliseconds.
To achieve such a thing, consider several elements: the title, the message, an image, and a link. Here's a visual representation: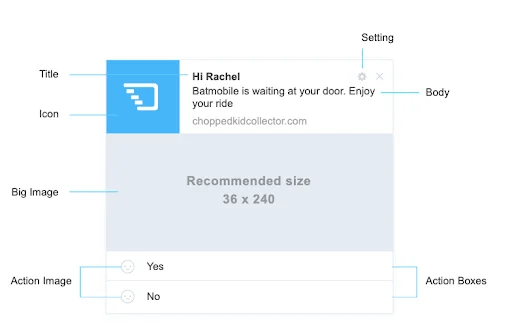 Source: VWO.
Here's another example: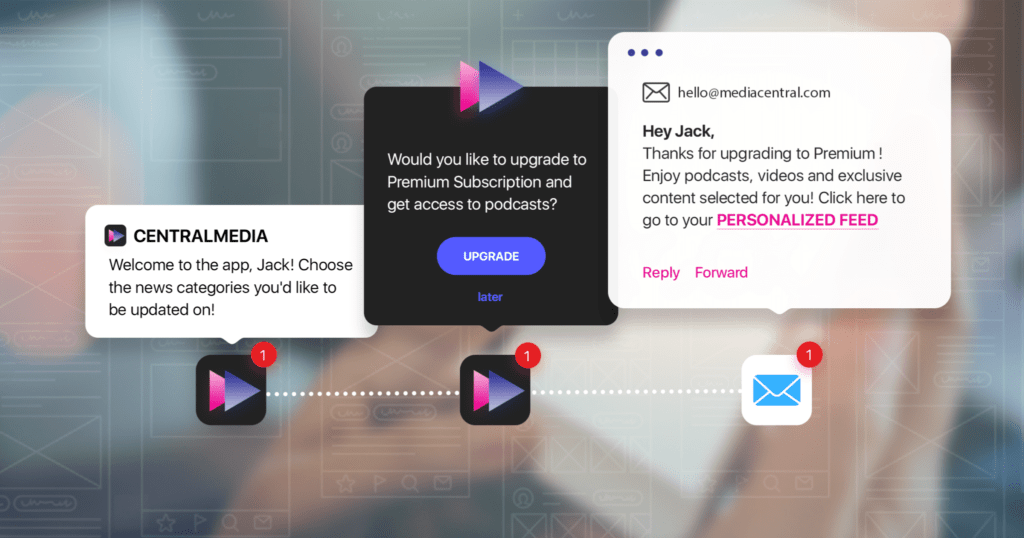 Source: STARTUP INFO.
THE DIFFERENT TYPES OF PUSH NOTIFICATIONS
Web
These are communication messages sent through users' web devices. So, you can find these notifications on the desktop web or their respective mobile webs. These alert messages slide on top or below your screen (specifically on the bottom-right corners).
Web Notifications are usually active when users open browsers regardless of whether they're on your site. This is because marketers use them to increase web engagement. Thus, they encourage visitors to return to the website, increasing the chances of conversions. Also, they're relatively easy to use as you can apply them on your site with little to no technical experience or background. However, this isn't the same for the following type.
Desktop
These are pop-up messages that appear only on your user's desktop. These are mainly driven by the products installed in their device, which aims to encourage customer engagement. This kind of push message needs the help of a developer to run it.
Mobile App
Like Desktop Notifications, these notifs are driven mainly by applications your users have already downloaded on their phones. If they installed your app, your customers can agree to receive these types of messages. Android phones have a default opt-in and out option for their users. On the other hand, Apple devices only let users receive a notification if they agree to it.
When a user opens an app, it registers a unique ID for that app and device. Then, the publisher sends Push Notifications to the user to increase engagement.
Mobile Push Notifs are displayed on three locations on your device: lock screen, banner, and of course, your notification centre.
Other Notification Types
One other type of push notification is 'Wearable.' People who link their devices to their smartwatches can also receive pop-up messages.
Some Common Types of Push Notifs May Include:
Promotional Codes for Discounts on your next purchases
Abandoned cart messages
Renewal of subscription
Alert on the status of your order or rider who is on the way
Alert for order arrivals
Reminder messages
Trigger messages based on a specific location
Breaking news updates
Onboarding of new users
WHY USE PUSH NOTIFICATIONS?
Push Notifications, as you can see, are highly versatile. Thus, they can be helpful, especially in improving your marketing campaigns. Also, it becomes an essential tool to support your business. Here's how.
It Provides Your Business With Valuable and Relevant Content.
There are a lot of businesses that fire off messages to users just for the sake of "contacting" them. But if you're not able to add value and relevance to your message, there's a big chance that your users will unsubscribe.
However, you can attain both with Push Notifications by ensuring that you send targeted and valuable messages to your users. It also helps if you can segment audiences into different categories. Thus, you can send separate messages to your loyal customers and first-time subscribers or buyers.
Aside from that, using your location can become your advantage too. For example, you can send users promo codes if they're near your area, increasing the chances of customers coming to your doorstep.
Tip: Having good Calls-to-Action in your message can help bring people in too.
Captures Increased and Good Quality Leads.
Many businesses fail to generate leads because web visitors are reluctant to provide personal information. With Push Notifs, you can add subscribers with a single click. Thus, you won't have to capture lead information yourself.
Push Notifications Increases Return Traffic.
Push Notifs aren't just convenient, but they're also proven to increase Click-Through Rates and increase return traffic. So, you can direct customers back to your website by sending notifications. You can retarget users and drive them right back to your website with just a single notification.
By sending proactive messages, you can keep them hooked to your website, app or services. Then, you may integrate your current marketing efforts or create new ones to increase return visits, build brand awareness, and gain new customers.
It Saves You Time.
As a marketer, you know how much effort and time it takes to write compelling copies and articles. Though this still stands for notifications, it allows you to be concise with your approach. They're direct to the point and mostly automated. So, you can set up and prepare for notification campaigns without much work!
Like how you can schedule Content Postings, you can also adjust when to send notifications. Also, you can set up expiry dates for time-bounded messages. For example, your sending times can depend on your intentions, and you may segment your customers. So you can send them at different times depending on whether they're old or new users and where they're located.
It also improves your outreach and performs better than SMS or emails.
BEST PRACTICES YOU CAN FOLLOW
As a marketer, you want to keep both new customers and loyal patrons interested and engaged. So here are some of the best practices for Push Notifications that you can follow!
Find the right send frequency.
Observe your data and when your customers are most active. Then, set that as the time you send your notifs to your users. It's also best to not send notifications more than once per week so that it won't annoy them.
Make sure your notifications are short but also impactful. It can also help you know the word limit for different devices (Android, IOS, web) to optimize your content while keeping it presentable.
Remember to keep your content personalized.
This will help increase your conversions and build rapport with your audience. It's recommended to craft and send messages based on your customer's purchase history and behavior.
Keep track of your statistics and analytics.
Tracking data will help you move your marketing approach and business forward. Also, here are some tips to remember, according to statistics from MoEngage:
Typically, eCommerce gets the best responses between 3 to 4 PM on Wednesdays. Media and publishing get the best engagement between 9 and 10 AM on Tuesdays. Also, BFSI gets the best results between 2 to 5 PM on Tuesdays. Finally, digital marketing agencies see the best results between 2 to 7 PM on Tuesdays.
FINAL THOUGHTS
Push Notifications are vital in driving engagement and aiding in User Experience. So start creating notifications for your brand now and raise your reach!