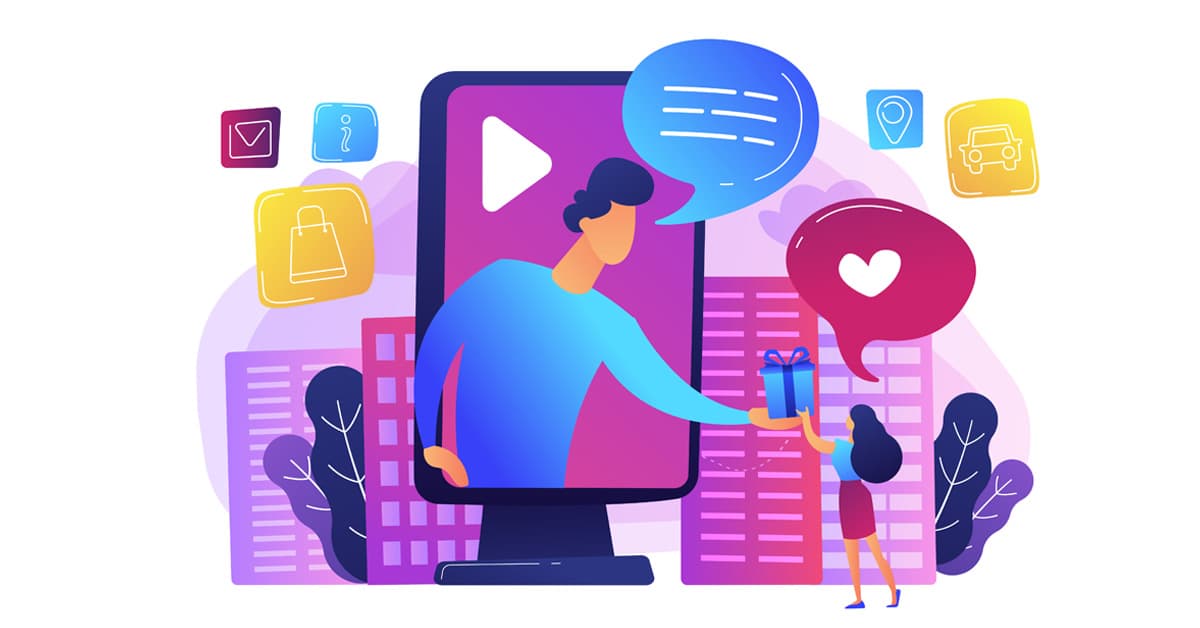 January 26, 2023
Social Media Giveaway Ideas and Contest Suggestions
Social Media Contests are an example of a powerful Marketing Strategy. Not only can they draw the attention of other users on the platform, but it's also great for engaging with your current follower base. So, it's vital to utilize Social Media Giveaway Contest Ideas that fit your brand.
You can make a task of almost anything, including image or video submissions, commenting on posts, sharing to or tagging friends, etc. Usually, giveaway winners are chosen randomly, meaning contestants have a fair chance of getting cool merch or prizes.
Of course, the contest organizers can choose a winner. So other times, a contest winner is determined based on their output or performance, meaning talented or creative audience members have the edge over the competition. In other cases, you can gain even more engagement by having other Social Media users vote for one.
Why Use Giveaways or Contests to Boost Social Media Engagement?
Overall, Social Media Giveaway Contests have a lot of benefits. First, contests allow users to interact with your business' Social Media in exciting, creative ways. They can generate engagement and potentially convert people on Social platforms into joining your follower base. It even allows companies to foster their online communities.
Because the contests allow people to see your brand in a fun way, you can use them to convert qualified leads. Sometimes, you can request contestants submit their entries through contact forms on your business' site.
Also, giveaway contests' benefits include increased brand reach. A business can further boost brand reach by partnering with related (but not competing) brands or influencers to find newer audiences to interact with.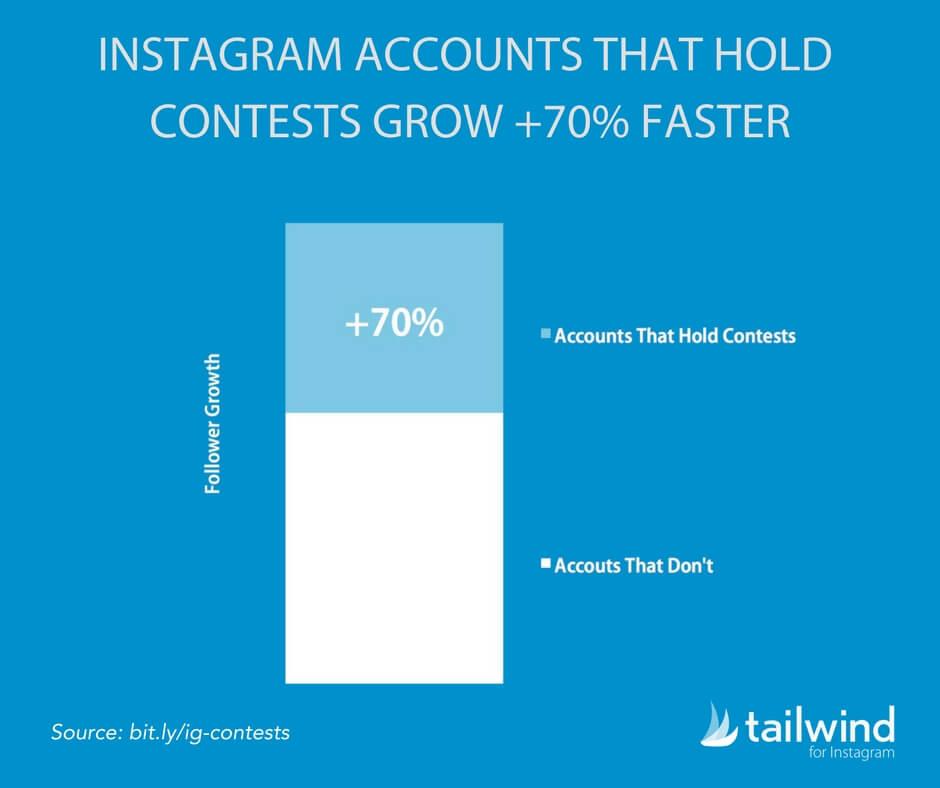 Source: Tailwind.
There are plenty of Contest Ideas for Social Media. Here are some excellent ones to use in your 2023 Social Media Marketing endeavors
Compelling Social Media Giveaway Contest Ideas to Use This Year
Hashtag Challenges
Hashtags are an excellent way to start a trend — or a contest! In addition, hashtags increase engagement with your brand via Social Media. For this Giveaway Contest Idea, you can call for contestants to create User-Generated Content, whether it's images or videos.
Hashtags are critical for tracking the people participating in your giveaway. After you select a hashtag, giveaway mechanics, and prizes, you can publish a contest announcement post!
Photo Contests
One way to get the attention of your audience is to use UGC. You can call for participants to send in images since submitting pictures is easy for most Social Media users.
Social Media Managers can use this Social Media Contest Idea to showcase their products and services. For instance, this giveaway idea can get people to take a picture of a brand's product and submit it for a chance to win a prize.
Source: Yeti, via Instagram.
Mechanics can specify how the contest works: should they take a picture with the product? What if they do an activity related to the product or campaign? You can also encourage people to visit your physical locations or campaign booths and snap a picture for the contest.
Additionally, you can tell the contestants to take pictures of how they used the product creatively. The best part is that businesses can use the submitted photos for future posts or marketing campaigns!
Video Contests
Videos are another form of UGC and require more effort from contestants. Still, it allows for a lot of creativity and effort from Social Media users.
If you intend to call for Short-Form Videos in your giveaway, consider utilizing TikTok videos and Instagram Reels. Your contest can increase your follower base across your Socials.
Brands can always call for contestants to submit a short video of them using a product. But they can make the contest mechanics more interesting. So why not have Social Media users do an activity using or related to your product?
Trivia Contests or Guessing Games
Of the many Social Media Giveaway Ideas, trivia games are a lot of fun. After all, they test your audience's knowledge on specific topics related to your industry or business. Alternatively, marketers can utilize guessing games or brain teasers to find a winner among the people who answered the challenge correctly.
Source: Fincare Small Finance Bank, via Twitter.
You can set up a spin-to-win game to pick a random winner if you want to lean into random chance. A company can take advantage of any challenge or game related to its brand, product, or service.
Digital Scavenger Hunt Contests
Scavenger hunts add more excitement to your Marketing Campaigns. With this Social Media Contest Idea, companies can engage with more people. Social Media Marketers can use almost any challenge for contestants to complete, as long as it's related to your business or brand.
For example, you can hide clues in your text, image, and video posts across your platforms! You can also ask trivia questions in key posts scattered around your account. Marketers can even hold the contest on multiple channels to drive more engagement.
Tag-a-Friend Contests
You can spread brand awareness by asking followers to tag their friends in a Social Media Giveaway Contest post. So, your audience can tag people they know on the platform via their comments.
Naturally, people need to comment and then tag their friends. In other cases, mechanics will require users to share your giveaway announcement post. Also, you might specify that contestants tag only one friend or more. But, some contests allow users to tag more than one person, and each tag is an additional entry to the giveaway.
Source: GoMacro, via Instagram.
With this contest idea, you can enhance your post reach. Then, this reach will extend to your brand as more followers tap friends and people they know.
Follow-to-Win Contests
Follow-to-Win Contests require people to follow your business account or page to win prizes. Admittedly, it's a simple mechanic, but it's a straightforward Contest Idea for Social Media.
During these contests, you can include like and share requests via the mechanics. As a result, marketers can increase engagement on a brand's Social Networks! Additionally, you can run the contest to reach a particular follower goal and then choose a random winner from your followers.
However, businesses should be careful with this idea, as some people might unfollow you as soon as the contest ends. For instance, you may indicate that unfollowing your account or page after the contest will result in disqualification.
Contests Resulting from Collaborations or Partnerships
This contest stands out from other Social Media Giveaway Contest Ideas because your brand can partner up with another. By marking the occasion with a giveaway event, you can combine your follower bases while introducing them to your respective niches.
Source: Primally Pure, via Instagram.
However, when you select a potential brand partner, choosing one that isn't your competitor is vital. Thus, you should co-host the giveaway with a business that complements yours. For the mechanics, you can have contestants follow both your brands for a chance to win prizes from you and your co-brand.
Alternatively, instead of partnering with a fellow business, you can collaborate with an influencer with a niche related to your brand. So consider tapping Instagram Micro-Influencers or TikTok Content Creators for a collab!
Post a Comment to Win
A 'Best Comment Contest' can be a fantastic Giveaway Contest Idea for your Social Media campaigns. It's easy for anyone on any Social Network to post a comment as a contest entry. You can spread your brand's reach widely this way, considering that people don't need much effort to enter.
However, you can tweak the mechanics and require contestants to submit a caption to win prizes. For instance, you can make a contest out of creating the most fitting caption for a particular image.
Follower Milestone Celebration Giveaways
Companies can hold contests celebrating follower milestones — an opportunity ripe for engagement.
It's perfect for gaining the attention of a broader audience and giving back to your existing community, too. This Giveaway Idea can help you highlight the people who have allowed you to reach your current level of success.
Source: Art By NukaBelle, via TikTok.
Of course, you can have potential contestants like, follow, or comment on your contest announcement posts to win prizes.
Bonus: Other Exciting Giveaway and Contests Ideas for Social Media
Sweepstakes raffles
Holiday- or seasonal-themed contests
Using branded lenses or filters
Direct Message contests
Essay contests
Final Thoughts
Businesses can use giveaways or contests to boost engagement. For example, you can set up a challenge that Social Media users can complete for prizes. As a result, you can reach a broader audience and increase conversions.
You can consistently bring in newer audiences if you run regular contests on your Social Media accounts. Additionally, exciting contests allow businesses to interact with Social Media users. As a result, marketers can convert interested users into loyal followers.