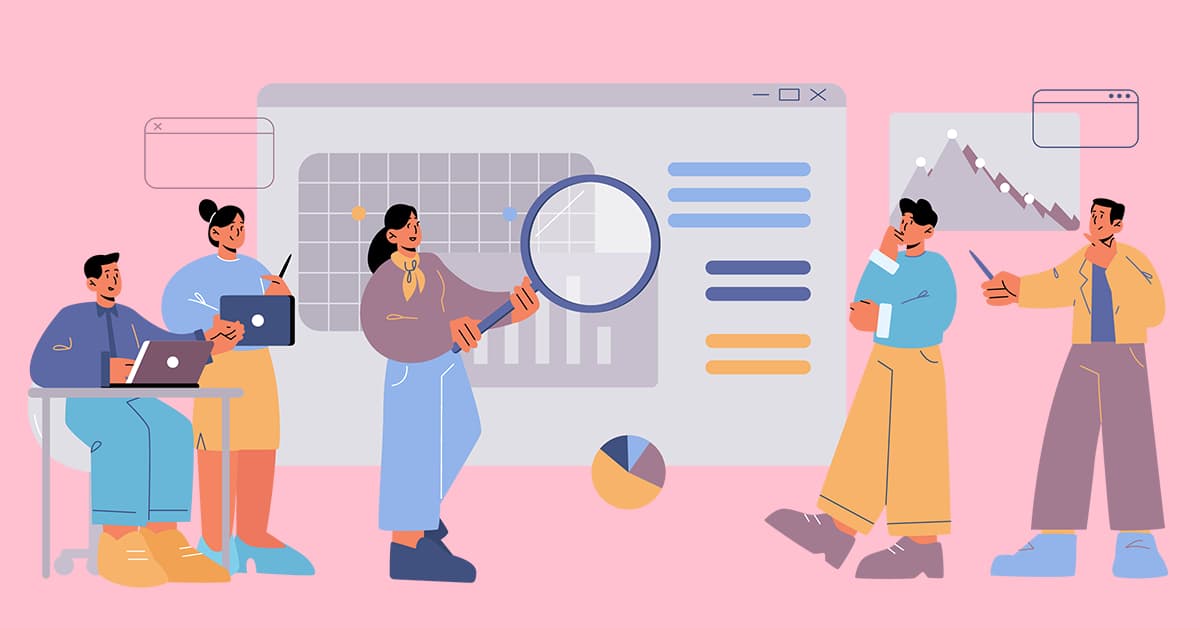 August 5, 2022
SEO Reporting Software for Clients: A List
Having difficulty selecting the best SEO Reporting Software for clients? Then you're on the right page. We created a list of the best Search Engine Optimization Reporting Software you can sign up for.
Software that values your money will surely boost your page across major search engines. This isn't just a list; it also has tips to consider before committing and investing in this software.
SEO Reporting Software is essential for Digital Marketing. After all, it saves time, enhances revenue, and amazes your clients with exemplary results. This increases the website's traffic by providing all statistics needed.
Additionally, it analyzes the data gathered in between posting articles or adding product/service pages. Also, it increases the competitiveness of the website, raises the efficiency of specialists, and boosts the site's SERP position.
However, doing a manual optimization will be inconvenient and time-consuming. Thus, analyzing and calculating the data will be inaccurate, and there's a bigger probability of errors.
What's in This Post
Types of SEO Reporting Software
Things to Look for in SEO Reporting Software
List of SEO Reporting Software for Clients
Final Note
Types of SEO Reporting Software
Before knowing what SEO Reporting Software to get, it's essential to know about critical SEO aspects. These are:
On-page SEO;
Off-page SEO;
Technical SEO;
Local SEO; and
Outreach SEO.
All of these require different SEO Reporting Software to deliver client reports.
On-Page SEO
On-site SEO is set to optimize your page's content and HTML source code. Thus, it also includes the creation of content, inserting keywords, improving the page, and more.
Off-Page SEO
Unlike On-Page SEO, Off-Page SEO aims to improve the website's authority. Also, it enhances the website's visibility and indexation across all search engines. Thus, the SEO Reporting Software needed for Off-Page SEO gathers information on website ranking.
Technical SEO
This SEO processes the website's technical requirements for modern search engines. It focuses on improving its organic rankings and important elements such as crawling, indexing, rendering, and website architecture.
Technical SEO needs something that gathers information on the website's performance. So, you need tips and suggestions on how to further improve it.
Local SEO
Local SEO promotes local businesses for inquiries within a regional connection. Naturally, it's a powerful tool for small businesses. The majority of local queries use major search engines such as Google. So if your business site doesn't use Local SEO, you may miss out on 80% of potential customers. Local SEO needs software that gathers information on local queries and sends reports on the statistics about these queries.
Outreach SEO
Outreach SEO creates important links from off-site websites. It's usually utilized by bloggers, site admins, and journalists in building interactions with its desired audiences.
As a result, it requires publishing articles, links, or banners to promote third-party websites. So, Outreach SEO needs software that gathers information on backlinks and website quality to link back to the client's site.
Things to Look for in SEO Reporting Software
Now that you know what type of SEO you have, there are certain characteristics of SEO Reporting Software that you should look into. Or what you should consider before pressing the payment button.
Firstly, you need to consider the capability of the SEO Reporting Software to bring accurate data. So, the data is gained from either around the world or local queries in your regional target. Aside from the demographic and data, it should allow you to integrate a third party that's easy to scale at the later stage and export reports quickly.
Here are other things about the software that you can look into. With them, you can maximize its usage while gaining efficient results.
User Interface
Firstly, it is essential to look at the User Interface (UI) of the SEO Reporting Software. So, it should be clean and easy to navigate. All integral tabs must be visible to the user to ensure smooth maneuvering.
Usability
Secondly, consider the software's usability. Thus, the software should be easy to master and have technical support ready. Moreover, tutorials should be provided for first-time users! Training must be available for its subscribers to fully optimize the software.
Features
The third consideration is the software's features. SEO Reporting Software must have certain features to be considered useful. So these are a few basic, essential features that any SEO software should have:
Position tracking;
Backlink monitoring;
Competitor data; and
Analytics.
It's a plus if the software also provides for Social Media and Email Marketing.
Customize Report
The software should not just offer all those features but also cater to customers' different needs, such as their KPIs, metrics, objectives, and priorities.
Ability to Export Reports
Lastly, SEO Reporting Software should have the ability to export reports. It should report directly on your system or be able to set an automated report on a recurring basis.
Aside from these characteristics, SEO Reporting Software should also have additional features. So these can greatly help simplify the SEO performance and improvement process:
Client integration;
White label reporting;
Automation;
Quality resources; and
Unrestricted export access.
List of SEO Reporting Software for Clients
Now that you know what to consider when choosing an SEO for your website, here's a short list of SEO Reporting Tools for clients:
SEMrush is a popular marketing tool that gives terrific options to businesses. This platform covers SEO site audits and analytical reporting as a single toolkit. It provides:
Various insights and reports
Keyword Research
Campaign management
Social Media Management (SMM)
Competitive research; and
Content Marketing metrics.
The Pro plan costs $119.95 per month. The Guru plan is $229.95 per month. The Business plan for $449.95 per month. It's excellent for someone seeking a full SEO package because it has some outstanding integration, backlinking, and analytics tools.
SE Ranking is a potent all-in-one SEO software solution that also functions as a reporting tool for SEO. It features a fully customized report tool to quickly and easily create professional reports, making it ideal for all enterprises.
Multiple SEO Reporting Tools and capabilities, including Google Analytics, are offered by Google itself. The majority of Google's tools can be accessed for free. There are also advanced paid options made available for their best use. Among the reporting features are:
real-time activity monitoring;
audience reporting;
acquisition;
behavior; and
other tailored reporting tools.
Google Analytics can be a terrific starting point if you have a limited budget and want to analyze SEO Reports.
Google's Webmaster, known as Search Central, is a platform that provides instructions on getting your articles seen on Google. It offers unique features that help developers, company marketers, or SEO experts boost the SEO of your websites.
You may monitor website performance and debug, as well as site optimization for free with Search Console. Launching with an SEO Reporting analysis of your site's performance is another cost-free solution.
For SEO Reporting, Google Data Studio has a number of very comprehensive tools. It's another method for getting specific cutting-edge data analysis features without cost. A great reporting-focused interface is provided by Data Studio.
It enhances the efficiency and ranking of your website. GDS also creates interactive reports and dashboards based on website performance and data. Data Studio is a good fit for your online business if it depends on data metrics from multiple sources.
An essential feature of the SEO tool Nightwatch is rank tracking. It has excellent reporting tools and is easy to use. Of course, there are Google Data Studio, Google Analytics, and Google Search Console integrations available. It's also accessible for agency reporting for white label solutions. Nightwatch is a fantastic, reasonably priced choice if you only require a reliable rank tracker. So, you can choose this software if you don't prefer an all-in-one platform performance.
Starter plans start at $39 (500 keywords recorded). Optimize plans start at $99 (1,000 keywords tracked). Also, agency plans start at $369 (5,000 keywords tracked), and bespoke plans fall somewhere in the middle. There is a free 14-day trial available.
Still unable to decide on what to choose? Here are a few more questions to consider in finalizing your choice.
Do you require a complete SEO solution?
Also, how often do you produce reports?
Do you wish to create reports from information obtained from your current tools?
Does your company need to swiftly share the most recent ranking information?
Do you like to pay annually or monthly?
How much can you spend on SEO Reporting Software?
Final Note
The top most used SEO Reporting Software for clients is listed above. Once you choose your best bet, your site is guaranteed to reach its target audience. We believe using this software will further lead you to greater heights in reaching your website's goal.
The final call for your tool is all up to you and your requirements. So, may the best of luck come your way.