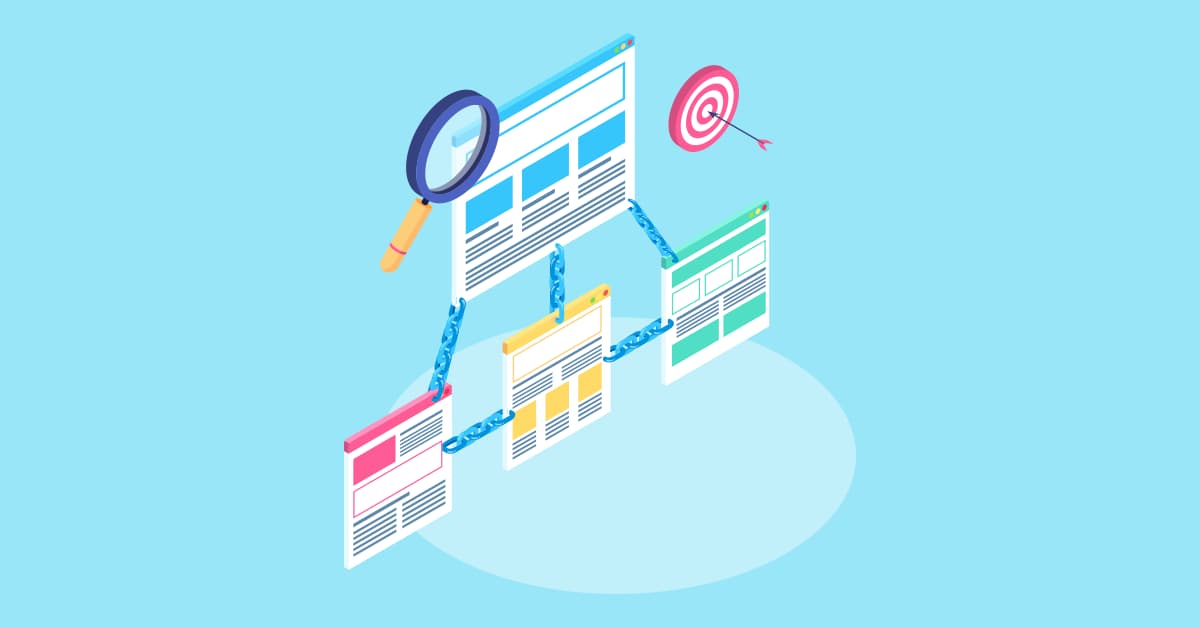 May 12, 2023
Link Building for Local SEO: 5 Simple Strategies
If you're running a business and want it to be easily visible on the Internet, Link Building for Local SEO is one method you should apply to your website. Through Link Building, it'll be easier for people to locate your business through your website.
You can appear right away on search results pages, but with the help of Local SEO, you can be more visible to searchers! Therefore, there will be higher chances of attracting potential customers.
How Does Link Building Work?
Link Building is the process of adding hyperlinks from various websites to your page. Link Building is a useful tool for optimizing your website, so businesses should definitely use it for Local SEO.
By building strong linking profiles on your site, you are letting readers know the relevance of your business. Thus, you can informing people who may not have otherwise discovered the existence of your business.
Why Is Link Building Important?
With Digital Marketing Strategies, businesses will have the visibility they need to make their content and products easier to discover. They improve visibility on search engines through Link Building too!
Without hyperlinks, readers may have a hard time finding your page, or never find it at all. Moreover, here are some reasons why Link Building is essential in promoting your page:
Increases brand awareness;
Builds relationships with other site owners;
Increases referral traffic and;
Builds your brand.
In addition, you're more likely to sell more of your services and products to potential buyers online. This solution will lead you to success in attaining your business needs.
For 41% of enterprise companies, Link Building is the most challenging aspect of SEO.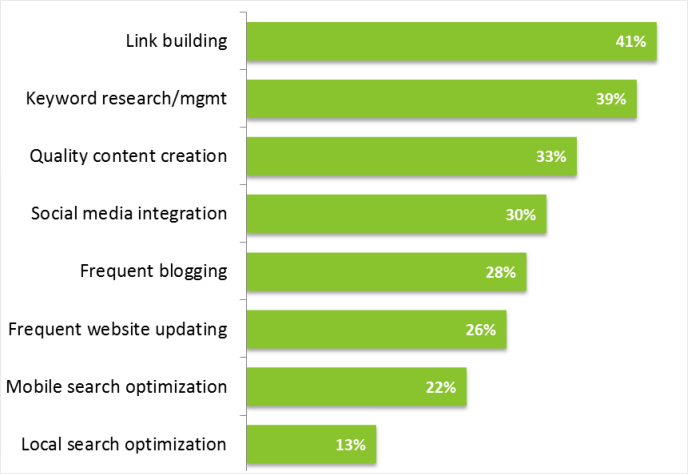 Source: AIOSEO.
Simple Strategies for Local SEO Link Building
Effective Link Building Strategies are something every business owner should learn. After all, these techniques can enhance their online business promotions to establish their names in the industry. With countless businesses popping up here and there, they may end up putting their business page behind on the Internet. Enhance your business through these strategies.
Establish Links On Review Pages
An astounding 98% of customers check online reviews before they proceed to their purchase. Customers want to ensure they're purchasing products and availing their services from trusted and reliable business owners. One technique is to encourage customers to leave five-star reviews on your page.
Put Your Links On Business Directories
To put your business on the map, one thing to do is reach out to business directories such as Facebook. Also, you can improve your Google Local Business rankings and get your business all set. You will have to fill up a form and provide the following basic information:
Your business location;
Operating hours or schedule; and
The types of products and services you sell.
Go For Brand Mentions That Are Not Linked
Want to meet halfway with other business promoters on the Internet? then reach out to them and ask them to link to your business page.
You can check out websites that have mentioned your business on the Internet. BrandMentions is a site that provides linkless brand mentions.
Build Relationships With Bloggers and Online Personalities
Why not keep in touch with online professionals like bloggers and establish good relationships? As a result, you'll be more convenient for you to ask them to promote your business page. How does that work, you ask? They'll be mentioning your business either through hyperlinks or talking about it on their blog.
Go For Social Media
Nowadays, the majority of businesses do their advertising activities by marketing their respective brands on Social Media. With the huge amount of users on different Social Media platforms, it will be easier for you to expand your business and make it known to a wide range of people. By following Social Media Strategies, the likelihood of getting noticed by other website owners would be high.
The Types of Link Building
Link Building for Local SEO can vary in types, ways, and functions. This section helps you understand Link Building a lot better. You can definitely choose your own way of establishing links and determine which type works best for your business. Here are the types of Link Building you can learn more about.
Natural Link Building
Natural Link Building happens when other pages link to your site naturally without any effort from your side. This usually happens when other bloggers or online personalities like your page due to its quality content that may be informative to readers all over the Internet. When this happens, it becomes easier for your business to be at the forefront.
Guest Blogging
Guest blogging usually happens when you write top-notch content for other websites in return for a link to your site. So, you're more likely to reach a wider audience, especially if the website that promoted your website has many visitors and readers.
Outreach Link Building
Unlike natural Link Building, outreach Link Building usually involves reaching out to other website owners and asking them to give you a spotlight on their pages. This is done through email and various communication channels such as social media. However, it's recommended that you provide them with a specific reason why your page is worth featuring on their website.
Link generation is considered a popular Link Building Strategy.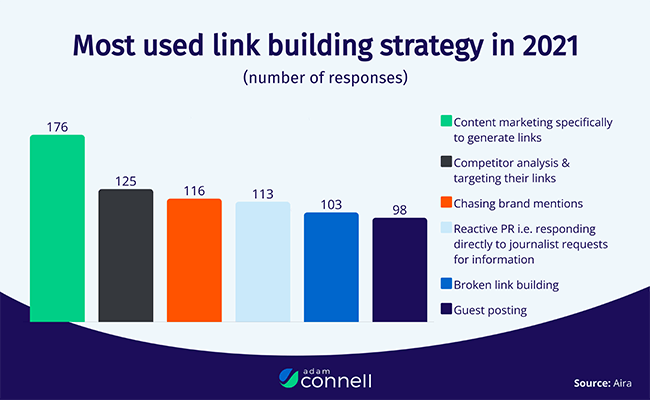 Source: Adam Connell.
And That's It for Link Building for Local SEO!
Nowadays, Link Building has immensely helped millions of business owners by putting their websites in more visible spots. Thus it's more likely to garner attention from a multitude of people and especially potential customers. Local SEO Link Building is an excellent way of enhancing a business and improving its visibilits on every platform.