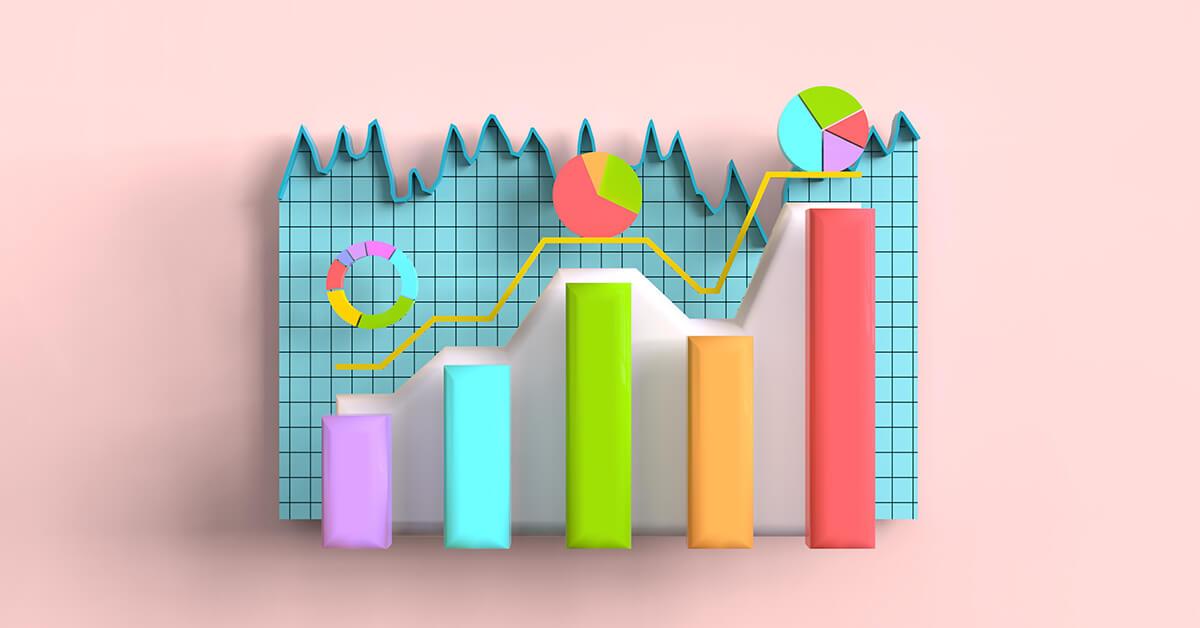 April 27, 2022
Social Media Analytics Best Tool for Beginners: Top Picks
Let's face it: people share way too much on Social Media. This can lead to some crazy amounts of data for providers like Facebook and Twitter to sort through. However, the same is true for Social Media Marketing specialists. So you need to pick a Social Media Analytics Tool that's best for your business.
Of course, Web Analytics Tools such as Google Search Console allow you to check on company data. But, these are mainly for websites.
When it comes to monitoring your business' Social Media performance, the work can be overwhelming, from managing accounts throughout various platforms to monitoring post engagement. This is why most companies and SEO experts recommend Social Media Analytics.
Analytics Tools for Beginner Marketers
If you're new to Online Marketing or an emerging brand looking to track your progress, this article is for you. So check out this list to find the Best Social Media Analytics Tool for starting your marketing journey!
The Best Social Media Analytics Tools for Beginner Marketers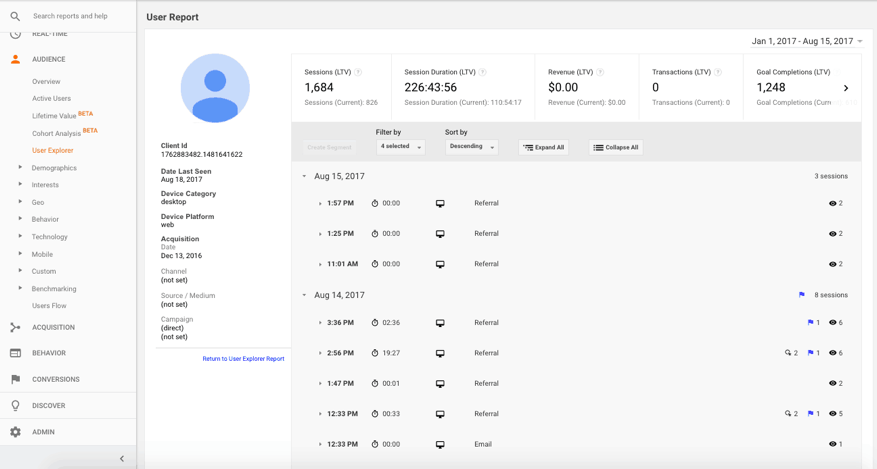 Source: Sprout Social.
There's no analytics without Google Analytics! It might be an exaggeration to say, but it is one of the pioneering Web Analytics Services on the Internet.
Also, it's one of the most-used Web Analytics platforms for monitoring brands' progress and traction. Statista backs this up: Google Analytics is the most popular platform in the Web Analytics Industry, with a 31.55% market share.
Thus, Google Analytics keeps track of the unique visits to your website. It displays data on interactions that site visitors have with your web content, such as:
what pages and videos were viewed;
conversions; and
where visitors come from.
Moreover, Google Analytics helps you organize yourself by setting your goals into four categories. These are as follows:
Destination;
Duration;
Page/Screens per Session; and
Event Goal.
These goals can assist you in mapping out the actions and steps you need to take to attain these objectives. Additionally, Google Analytics can help you build a Content Marketing Strategy.
Lastly, Google Analytics is free. As a result, there's no need to worry about additional expenses on your marketing budget. After all, it's one of the best platforms, whether you're just starting your marketing efforts or have an established Social Media Marketing career.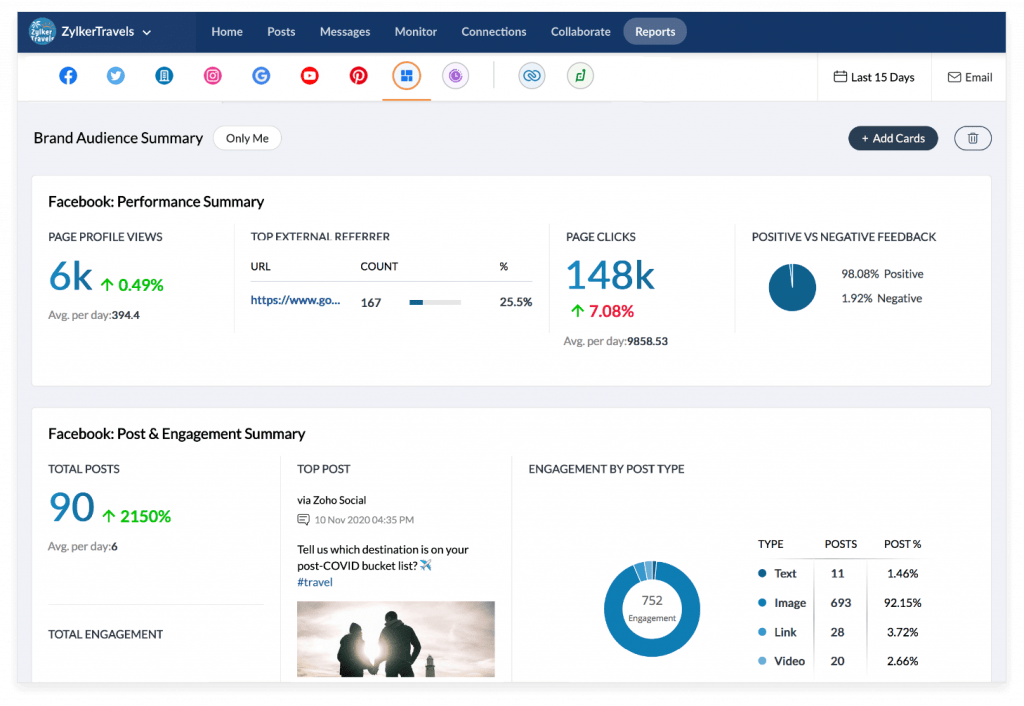 Source: Zoho Social.
Zoho is a platform best known for its excellent tools and CRM software. But, in addition, they've got a solid Social Media outreach and management platform with their Zoho Social addition. The addition in question brings a lot of benefits to the table. So, it is one of the easiest ways to manage and analyze your socials. Also, it helps manage content and postings.
Zoho offers the following features:
Scheduling Your Post. This feature focuses on posting or sharing your content. So with it, you can either follow Zoho's best-time-to-post-prediction or establish a schedule that suits your audience best.
Content Calendar. Zoho allows you to visualize your blog posts with an intuitive content scheduling calendar. As a result, you can post interesting content when your audience is most receptive. Also, it helps spread your posts across different days, saving you from the pain of writer's block.
Monitoring Dashboards. This feature helps monitor your engagements in real-time. So, you can engage with your audience as much as you like! Zoho has multiple listening columns to keep you updated with everything relevant.
Analytics Report. Lastly, Zoho's Analytics Report is arguably the platform's heart and soul. Zoho helps you understand and acknowledge your audience. Also, you can learn how your audience engages with you on Social Media. Thus, you can efficiently build or create reports based on the stats that matter most.
Zoho offers a paid subscription plan, but you must decide whether or not the tool is worth it. However, you can easily avail of their fifteen-day free trial to see if it's the Best Social Media Analytics Tool for your business.
Source: Agorapulse.
Last but not least, for this Social Media Analytics Best Tool candidate list is Agorapulse. Agorapulse is a welcoming platform when it comes to Social Media Analytics. The platform itself offers an easy-to-use solution packed with powerful features. Of course, armed with these features, Agorapulse can help you take control of your socials.
Agorapulse's inbox, publishing, reporting, monitoring, and team collaboration tools help you save time. Thus, you can stay organized as you manage your social media accounts. Additionally, you can even schedule messages to be published in the future! Zoho's many features include:
a Unified Social Inbox that lets you manage messages, comments, reviews and other engagements in one place;
Intuitive Publishing, which helps you plan, collaborate and schedule your content for posting on your channels;
Social Listening to help you discover trends and gain insights about your brand, the market, and competitors; and
Insightful Analytics for creating actionable reports which reveal what works best for your brand and what doesn't.
Agorapulse's prices are also one of the best pricing plans for a growing team. In addition, they offer a three-way subscription from Pro to Premium to Enterprise. Thus, it allows you to contact them for a customized version that fits your needs best.
Price ranges from $79 monthly to $199 to a custom price (which depends on what you agreed to.) You can also start exploring Agorapulse's features for free for fifteen days with their free trial subscription. The best part is, if you're interested, you don't need a credit card to sign up.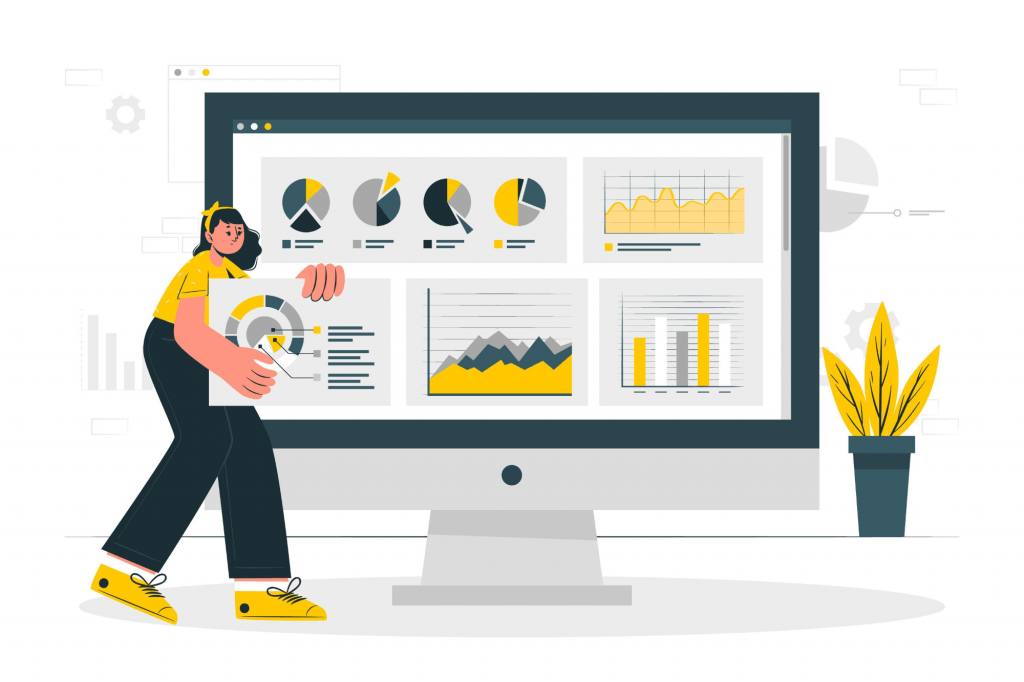 FINAL THOUGHTS
These are three candidates for Social Media Analytics Best Tool on the 'Net. In addition, there are plenty of excellent tools that are perfect for Marketers. To know what's best for you and your brand, you must try out different platforms and subscribe to their free trials (if they have any)! Then, you can see which of them suits your goals, preferences, and budget.
Managing your social media pages is a daunting task. But, with these three tools, you won't just track your progress, but you can get started in making your content more organized. As a result, you can develop your business' Social Media into a competent brand that can easily keep up with the competition. Maybe you can even pioneer the ever-changing trends and developments in the market.