March 24, 2022
Social Media Analytics Tools: The Top Five Best Picks
Social media is essential for connecting with old and new customers. After all, it has 3.96 billion users. However, you might be a marketer dealing with different content from different platforms. So tracking which social media strategies are the most effective based on your engagement can be pretty tricky. But it doesn't have to be hard! You have the help of different Social Media Analytics Tools to help you with the job.
Of course, Analytics is essential for making informed decisions. In the past, we covered Web Analytics Tools for Company Data. Here, we'll cover 5 of the Best Social Media Analytics Tools to help you with your brand's marketing strategy.
What are Social Media Analytics Tools?
Social Media Analytics Tools are a marketer's best friend, especially when identifying what does and doesn't work. These are web application analysis software to help monitor, evaluate, and improve your social media performance and marketing approach strategy. These tools are essential, especially when creating performance reports to share with your team and stakeholders.
The top Social Media Analytics Tools to get you started:
Sprout Social
Sprout Social has your back if you are focused on a single network. Or, maybe you want to compare your performance results across multiple platforms. It is a cross-channel social media analytics tool that tracks data. Then it can organize and shares your data in a presentation-ready report that is easy to understand.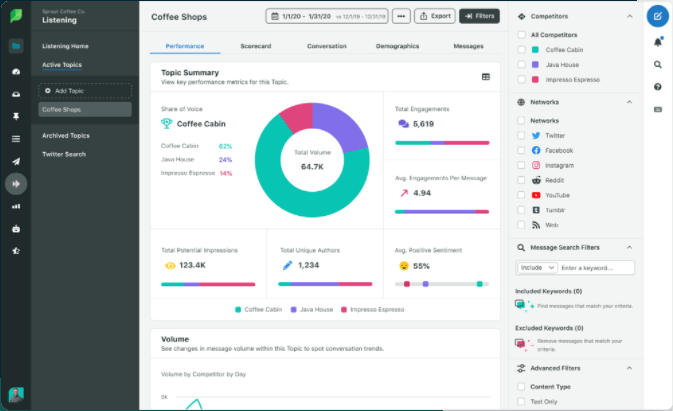 Source: Sprout Social.
It covers a wide variety of social media platforms like Facebook, Twitter, Instagram, Pinterest, and even LinkedIn. Sprout's features include analyzing paid campaign performance across the network. So it gets you group reports of your social media profiles. Also, it examines your team's performance based on traction and response rates.
With Sprout, you don't have to worry about completing your report. Instead, it saves you time with its template and customizable reporting options. As a result, it gives you multiple ways to gather and understand your social metrics.
It is equipped with an advanced listening tool that will assist you in attaining essential data. This data is related to your audience's demographics, different industry influencers, etc.
With Sprout Social, you have a 30-day free trial. The trial features range from presentation and report buildings on each social media channel and internal team performance.
Hootsuite Analytics
From profile to post metrics to posting at the right time, Hootsuite has it all and possibly more. It serves as your right hand by assisting you in compiling your social network's performance statistics in one location. All the while, it gives you easy-to-understand reports.
It also offers customizable templates for only the metrics you care about. So you won't be overloaded with data.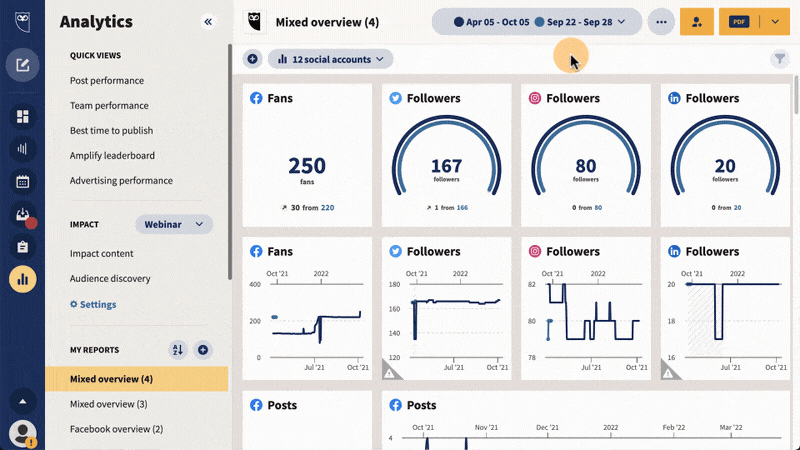 Source: Hootsuite.
Their Best Time to Publish tool is considered its most prominent feature as it can help you make sure that you don't fall behind on your engagement. It analyzes your social media data and suggests the best optimal time to publish based on three main objectives. These are Engagement, Impression, and Link Clicks!
Hootsuite also tracks your team productivity and can help you avoid PR disasters. They monitor mentions, comments, or tags related to your business. It even gives you the option to export these reports into PDF, Excel, or PowerPoint format.
Although it is a paid tool, Hootsuite offers a 30-day free trial. It's perfect for helping you see that it is indeed worth your investment, especially in marketing.
Google Analytics
One of the best free Social Media Analytics Tools is Google Analytics. It monitors social media channels by seeing
how traffic and leads flow from your website. It will also help you measure your social return of investment (ROI).
Though it may not be a social media reporting tool, you can still use it to set up your reports. Analytics has the following features:
It helps you see which social media gives you the most traffic.
It gathers and understands your audience with demographic data.
Also, it monitors which content brings in the most reach and traffic.
As mentioned before, it also calculates your social media campaign ROI.
Google Analytics is best for marketers of all skills, web-based businesses, and essentially any social media professionals. If you're interested in knowing your social metrics or data, then Analytics is perfect for you.
Source: Sprout Social.
You can then create an effective strategy and get the most out of your social media campaigns.
Keyhole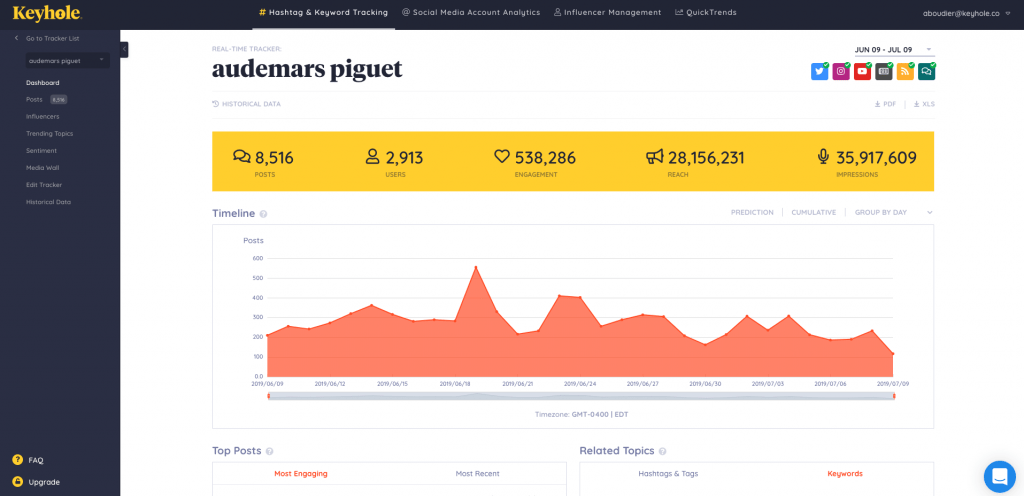 Source: Keyhole.
Another tool you can use is Keyhole. It offers trackers that help you monitor your brand mentions and social media activity. So you can quickly identify what's buzzing about your brand on social platforms and monitor the conversations in the industry.
You can analyze how people respond to your posts with no problem! In addition, you can manage influencer accounts and permissions from one place and track their performance.
Keyhole is also your key in improving your strategy with machine learning. It helps you predict your campaign performance and make changes accordingly. It studies audience insights, compares brands, and identifies current trends.
As it covers three leading social media channels (mainly Facebook, Twitter, and Instagram), this tool saves you hours of work! Also, it can generate shareable reports in seconds and simplify your reporting without ever having to crunch the numbers.
Buffer Analyze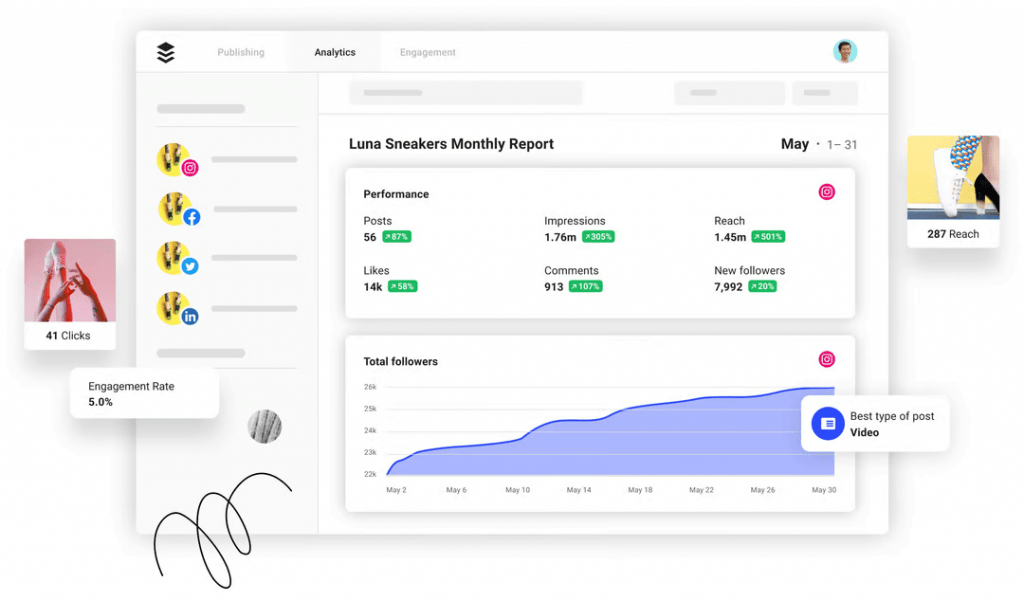 Source: Buffer.
Buffer gives you in-depth insights into growing your brand on social media. First, it helps you make better decisions about your social post and platform by analyzing how people engage with your brand. Then, Buffer suggests how to grow your reach, engagement, and sales!
It offers story and posting strategy advice account analytics – for example, giving you Instagram insights, boosting post insights, and contributing to collecting data on your audience's demographics.
Besides that, Buffer also offers assistance in creating professional and presentable reports. It gives you the answer to questions such as the best time to post, best type, and best posting frequency.
It does not require credit cards, offers you a 14-day trial, and allows you to cancel anytime!
And that's it for our Top Five Analytics Tool Picks!
Many tools, such as Social Media Scheduling Tools, can further your social reach, strategy, and engagement. But getting the best out of it is within your hands. It may require you a bit of investment. Still, it is worth something considering it can help you and your brand. So get started by using any of these tools now!