June 3, 2022
Mobile Marketing Provider Agencies in the United States
With the advent of smartphones, smart devices, and wearable devices, it's undeniable that Mobile Marketing Services are rapidly growing in leaps and bounds. So, you might want to hire the services of a Mobile Marketing Provider.
Mobile Marketing is here to stay. And it's not just worldwide, but most especially in the United States. In fact, according to 2020 statistics, the U.S. was the largest spender in the Mobile Advertising market, having spent $120 million on advertising. So this shows the impact of Mobile Marketing on marketers, business owners, and consumers alike.
So, if you want to hire a Mobile Marketing agency but don't know where to start, you've come to the right place. Here's a list of leading Mobile Marketing Provider agencies in the United States!
Top 10 Mobile Marketing Providers That Can Boost Your Online Presence in 2022: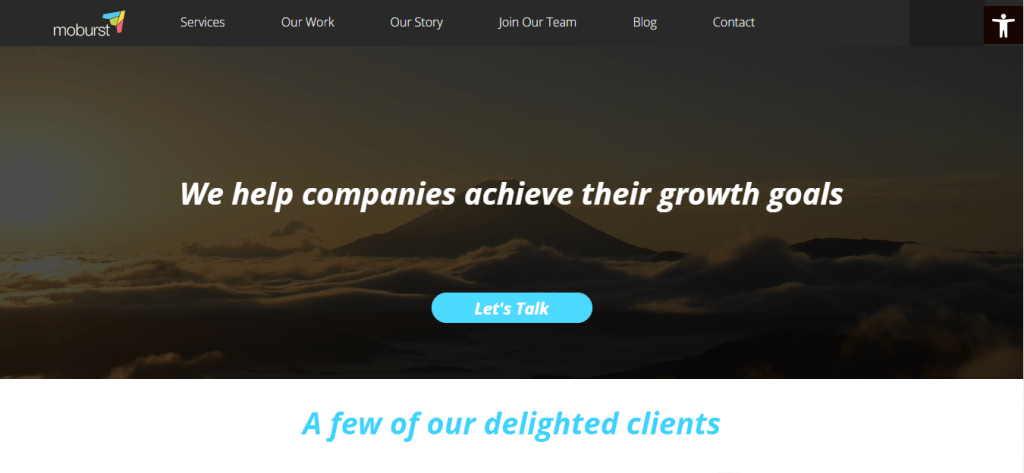 Source: Moburst.
Moburst is one of the foremost leaders in Mobile Application Marketing. Also, this provider is a pioneer of App Store Optimization (ASO). So, Moburst has won multiple awards, as they're recognized as an award-winning global Mobile Marketing Agency. More specifically, they specialize in assisting companies in achieving their mobile success goals through a creative, data-driven approach. 46% of the world's 15 apps with over 1 billion downloads work exclusively with this provider.
Moburst currently provides services to different companies ranging from startups to the world's most notable brands. Thus, its clients include Google, Samsung, Reddit, Uber, YouTube, etc. These companies use Moburst's services to improve their products and maximize KPIs while achieving exponential growth. And so can you, with Moburst's services, which include:
Creative Services
Media Buying
Mobile Strategy
Product Consultation
Influencer Marketing
Lastly, they also provide 360° ASO. With it, you can get your app in the top search results! Of course, with more chances to be discovered, your app can gain higher conversions.
Source: PreApps.
This particular Mobile Marketing Provider is hailed as Clutch's Top Rated App Marketing Agency. So PreApps has helped over 3,250+ apps generate over 500 million downloads through their propriety marketing programs. As a result, PreApp can help you in 60 days by helping you successfully launch your app and promote it to millions. Thus, the provider can give you worldwide recognition. In addition, PreApps can also ensure viral Video Marketing and ASO!
PreApps, the frontrunner among Mobile Marketing Agencies, can boost your app download by 300%. Also, they grow your user retention to 275% and boost your app revenue seven times over. PreApps offers services such as:
App Store Optimization
User Acquisition
Video Production
Growth Consulting
Media Exposure
Also, they've even been recognized by one of the most known investors in the country. Mr Kevin O'Leary, AKA Mr Wonderful of Shark Tank fame, gave PreApps a shout out upon being recognized as "the Number One App Marketing agency by Business of Apps."
Source: SEM Nexus.
SEM Nexus is an award-winning app agency specializing in developing and marketing Mobile Apps. So, startups are their target audience, and as they themselves say, SEM Nexus lives, breathes, and dreams startups. As a result, their development process is methodical and agile to keep costs low while maintaining high quality.
Aside from that, SEM Nexus' marketing process is comprehensive and data-driven. This also ensures that you're building a niche relevant user base large enough to be valuable without wasting money. Their development process follows four (4) phases: Discovery, Design, Development and Testing, and finally, Store Approval.
Aside from the above, SEM Nexus also offers other services such as:
ASO
Social Media Influencer Marketing
Ad Marketing
User Testing
Venture Capital or VC Preparation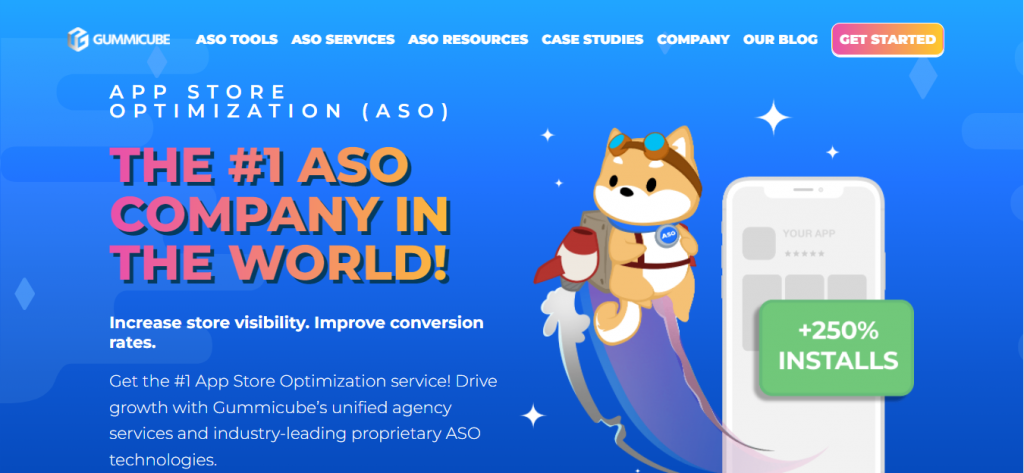 Source: Gummicube.
Gummicube is a Mobile Marketing Provider assisting clients with various things. Thus, these can range from optimizing their app listings, increasing conversion, and achieving incredible growth for over a decade. So, thousands of enterprise brands and startups worldwide rely on Gummicube's technology and services. Of course, these include Microsoft, GrubHub, Sweat, McAfee, Carvana, Avis, Xerox, etc. In addition, they are the global leader in App Store Optimization, providing leading enterprise ASO technology and agency services to their clients.
This provider focuses mainly on ASO but offers other services such as:
Keyword and Conversion Optimization
Creative Services
Reputation Management
Attribution and Reporting
Apple Search
Source: FIVE.
The fifth Marketing Provider on our list is a company literally called Five. So, having existed for over a decade now, FIVE has a large team dedicated to developing and marketing valuable mobile products to their clients. Partnering with different client companies, FIVE aims to establish and grow their clients' respective businesses. They accomplish this by defining problems, creating solutions, designing products, and building scalable and profitable businesses.
They have helped applications such as Rosetta Stone, the language app, increase their revenue six times. In addition, through FIVE, Marriott's travel app increased its returning users by 62%. FIVE has done a lot for many more companies by offering the following services listed below:
ASO
Product Discovery
Design
Development
Technology Evaluation
Growth Marketing
FIVE is a good choice for any company needing a full-service Mobile Marketing Agency.
Source: ShyftUp.
ShyftUp is a San Francisco-based user acquisition agency. With an ROI-driven approach, this provider helps expand your user base by lighting the fuse for your app's organic user growth. Thus, they give your app the visibility it deserves on the Apple App Store and Google Play! ShyftUp does this by conducting Keyword Research, optimizing metadata, A/B Testing store pages, and optimizing ratings and reviews. In addition, ShyftUp converts your paid marketing budget into real users and revenue. So, naturally, they plan and execute your advertising campaign, tailored to your business goals, using their ROI-driven approach.
Of course, they have three primary services that can help you grow:
ASO
Apple Search Ads
Google UAC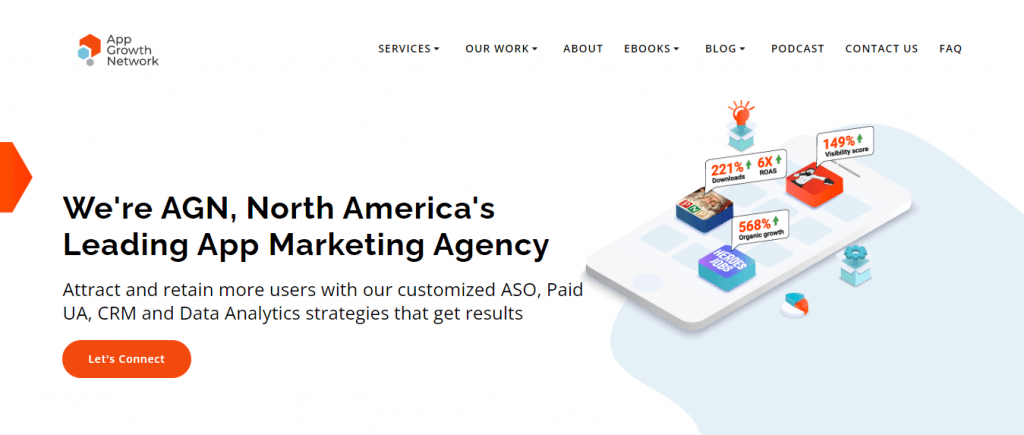 Source: App Growth Network.
App Growth Network is an award-winning app marketing agency based in North America. So with four key services, their team of experienced app marketers and specialists assists leading apps in meeting growth objectives:
ASO (includes localization services into global markets)
Paid User Acquisition (Apple Search Ads, Google UAC, Facebook Ads)
CRM (engagement & retention strategies such as onboarding optimization, push notifications, in-app messaging, and cross-device approach)
Data Analytics (performance reporting and insights using industry-leading tools from premier partners).
As a full-product app marketing agency, this Mobile Marketing Provider is focused on optimizing the entire funnel, from media performance to N-Day Retention analysis. As a result, they've helped clients achieve a 220% increase in app downloads and a sixfold increase in ROA. Additionally, App Growth Network continues to offer its services to different companies, such as the brands Zynga, Fit52, Twist, Heroes Job, Color Collab and many more.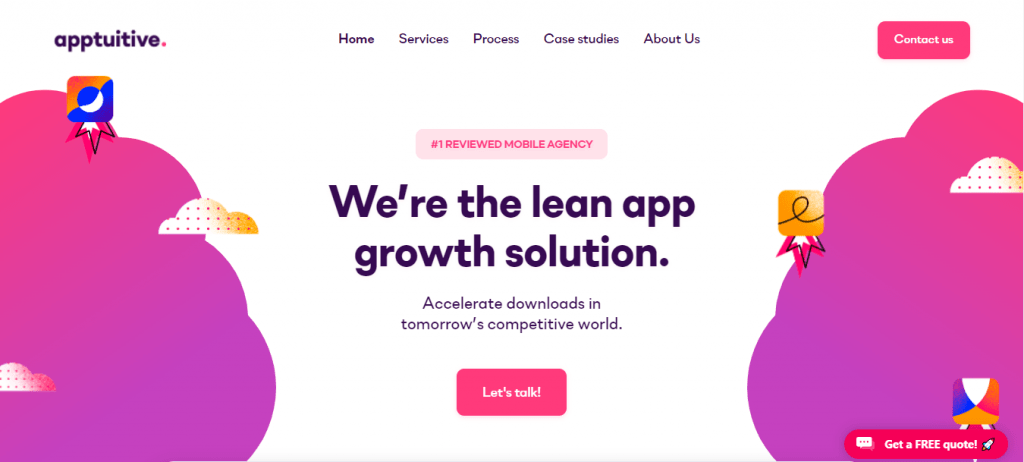 Source: Apptuitive.
Apptuitive is an award-winning Mobile Marketing Agency that helps your company grow with a team that cares. Also, they've helped generate millions of client revenues by offering services. Here they are, listed below:
Advertising (Apple Search Ads, Google & Meta Ad Campaigns, Weekly Reporting)
ASO (Competitor Reporting, Market Research, Keywords, etc.)
Branding & Product Design (UI/UX, App Icons & Screenshots, Ad Creatives, etc.)
Product Refinement (Onboarding Flow, In-App Subscription, etc.)
They offer you lean app growth solutions that help develop your brand through an efficient and straightforward process. Of course, it starts from defining your goals to the execution and reporting. Then, Apptuitive ensures app store success for leading brands by maximizing organic growth and data-driven techniques! They have partnered with brands such as Slice, Paid Workout, PopViewers, Da Vinci Eye and many more.
Source: GameChangerSF.
GameChangerSF is a Mobile Marketing, Creative Services, and Data Science firm. When you hire them to promote your Mobile App, you hire a successful Mobile Marketing team with years of experience. Also, they've developed hundreds of profitable apps. So GameChangerSF has you covered for Mobile Advertising, Mobile User Acquisition, Advertising Creative, App Store Creative, and Data Science!
This Northern American Mobile Market Provider offers services such as:
Marketing Strategy
User Acquisition
Creative Services
Data Science
GameChanger assists businesses in developing and executing the most effective Mobile Marketing Strategies. Also, this provider has even partnered with prominent names in the industry like Google and Facebook. Upon visiting their site, you can access their inquiry form. There you can specify the objective of your business, budget, and any other necessary information for them to help you grow.
Source: Appular.
Appular is a strategic marketing firm for mobile-first businesses. So, it has represented several top-rated paid and free apps on the App Store. Additionally, they focus on providing Public Relations (PR), ASO, and user acquisition needed for Mobile Marketing.
Also, Appular has worked with several clients all over the industry to create responsive, pleasing Mobile Applications and develop successful Mobile Marketing Strategies. Appular provides services such as:
ASO
Product Consulting & Design
Mobile Strategy
Public Relations
Market Research
User Acquisition
This Mobile Marketing Provider has a lot of experience under its belt. As a result, it ensures that you get a viral Social Media strategy to raise brand awareness. In addition, they establish excellent Public Relations for an equally excellent brand reputation. Lastly, they've completed over 150 projects that have achieved over 500 million mobile application downloads.
FINAL THOUGHTS
Mobile Marketing has become a part of people's daily lives. So, the right provider can help your business attract new customers. With the Mobile Marketing Providers listed here, you can stand out from the competition. However, the key to choosing which one fits you best is to make sure that your objectives align with the agency's strengths, ideals, and goals. But, all you have to do to ensure this is communicate with them. Thus, check the company, their prices, and their strategy to see if they are what you want for the company.
After that, your journey to growth begins. Connect with a Mobile Marketing Company now to reach your full potential! It's not just in terms of revenue but becoming an established, fully-developed Mobile App business.