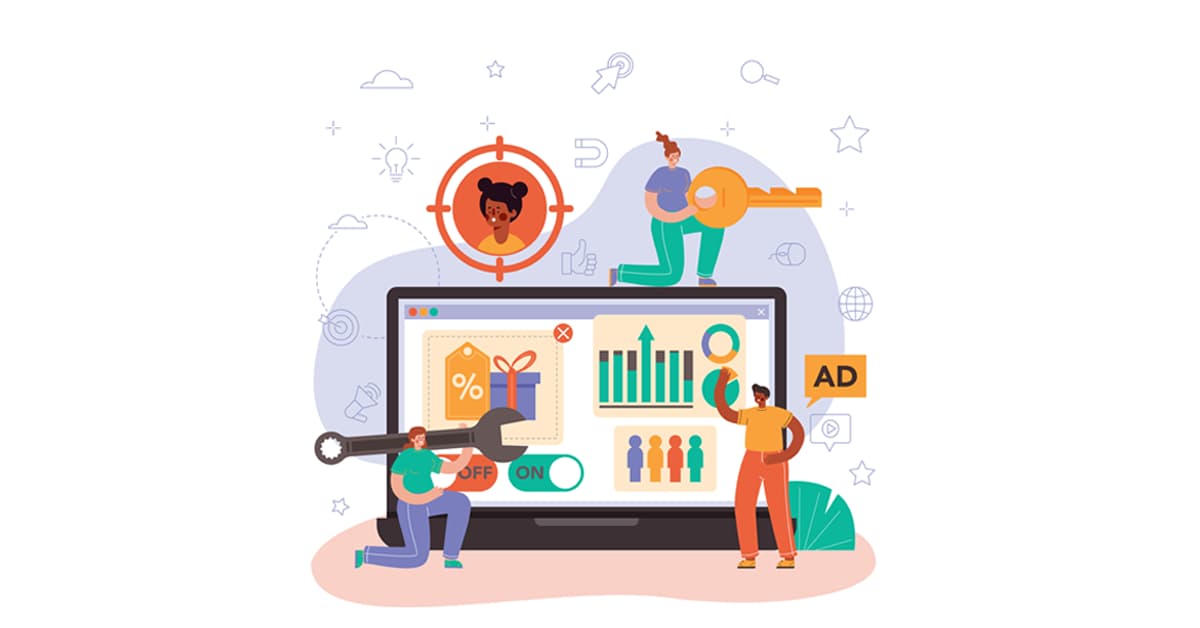 December 13, 2022
Keyword Research for PPC and Best Practices for Marketers
The key to success for any Digital Marketing Strategy is using the right keywords. If a Paid Marketing Specialist doesn't have a clear vision of the target audience, you may be harming more than helping your campaigns. It's the reason why Keyword Research for Pay-Per-Click (PPC) Advertising is so important.
PPC Advertising campaigns will charge advertisers a fee for every click. The ads can appear on search results pages, websites, and Social Media Networks. Every time you build a PPC ad on any platform, you must add keywords related to it. That way, the platform can target the ad to people likely to search for or visit a platform containing that keyword.
Thus, PPC Marketers can gain qualified leads with research. But, if you use the wrong keywords, you won't find people who aren't interested in your ads. Of course, you can use customer information to improve PPC Campaigns, but advertisers can capitalize on other aspects of Paid Marketing Strategies.
Keyword Research for PPC Best Practices
Determine Your Campaign Goals
Any Digital Marketing undertaking must be focused on its goals. The same is true with widely-accepted SEM Best Practices. So the first step for Pay-Per-Click Keyword Research is establishing your campaign goals! Also, to understand audience search intent, you must consider your Conversion Goals and Metric Goals.
Consider the Kinds of Keyword You Want to Rank For
Once you've prepared your goals, you can think of desirable keywords. After all, creativity is the hallmark of a PPC Expert. These keywords must include terms you believe your audience searches for when they're looking for your products or services.
Thus, here are several types of keywords that can help you reach your intended audience:
Branded Keywords. These keywords include brand names. So, you can try to target keywords containing your or your competitors' brands.
Product- or Service-Specific Keywords. These are keywords centered around finding a product or service. Thus, you'll target a large number of keywords, from generic to more specific ones.
Feature-Specific Keywords. These focus on particular aspects or features of a brand, product, or service you offer. For instance, you can add 'same day,' 'freebies included,' or 'affordable services' to the main keyword.
High-Intent Keywords. Lastly, High-Intent Keywords are more specific. Searches with such keywords indicate that the users are further along the buyer journey.
See the Keywords that Work for the Competition
While brainstorming, Paid Marketing Specialists can supplement your Keyword Research for PPC with competitor data. Thus, you can check out your rivals' keywords with research tools such as Ahrefs, SpyFu, and Google AdWords Auction Insights. 
Depending on what tools you use, you can see the following:
Your competitors' targeted PPC Keywords;
How much they pay for each click;
How much they pay a month;
Their ad positions; and
What searches their ads appear in.
In addition, you can do a bit of sleuthing and deduce competitors' high-ranking keywords. First, you must search for keywords as if you intend to reach rival websites' pages. Then, check on desirable SERPs using their major keywords and -phrases.
Use a Tool to Search for Desirable Keywords
If you use a tool to check rival businesses' keywords, you'll also be able to find some for your brand. These can save PPC Experts time finding the perfect keyphrases and expanding the target keyword list.
As a result of utilizing Keyword Research Tools, your PPC Advertisements can appear to the right people. Of course, you can use tools like:
Spyfu;
Ahrefs;
Keywords Everywhere; and
These can offer critical information such as Cost Per Click, Monthly Search Rates, and Competition. The Keyword Planner, for instance, will provide relevant keywords, competition, and estimated keyword bidding costs.
Make sure to select the best possible choices, which are keywords that are relevant to your advertisement and within your CPC budget. Additionally, you need to watch out for search rates. Thus, chosen keywords must have a high Monthly Search Volume, which can also result in equally high competition. So, your PPC Ads' keywords must not be too competitive.
Separate Keywords into Ad Groups
So now, Paid Search Specialists may already have an excellent list of keywords with manageable Search Volumes and affordable CPC. You may have a more extensive list than expected, but you can always take out any excess keywords as needed. Once you're satisfied with the results of your research, you can sort keywords into Ad Groups.
Ad Groups are groups of keywords searchers can use to search for a particular ad. So if a PPC Ad Campaign focuses on sportswear, then the group will not contain anything relating to musical instruments. Thus, it's also good practice to group by keyword user intent or sales funnel stage. This strategy can boost the effectiveness of your campaign and help you target the right audience to maximize clicks and conversions.
Fortunately, the Google Keyword Planner lets you select keywords and add them to an existing Ad Group. You can even create one without needing to copy and paste keywords.
Final Thoughts
Your Paid Search Marketing Campaigns won't get far if the ideal audience can't see your advertisements. You can use the right platforms, such as Reddit, to get their attention. But, without the right keywords, your advertisements might appear in the wrong search results. This can result in your ads looking irrelevant or even spammy.
Fortunately, Pay-Per-Click Marketers can target the ideal audience with Keyword Research. Desirable keywords can get your ads in front of searchers. So, it can help people find relevant ads.
Firstly, you must settle on your campaign goals to ensure your Keyword Research for PPC provides successful results. Then, you need to find keywords that you can use. Part of this means checking for your rivals' keywords.
Also, you can use Keyword Research Tools to make the process easier. Naturally, Google's tools may be helpful to your Paid Search endeavors and get your target audience's attention.