June 13, 2022
Klaviyo Email Templates & Campaigns for Your Business
Email Marketing is an essential component of your business. Whether you're selling a product, running an eCommerce store or a blog, it's Email Marketing is vital especially if you're operating mostly online. But Klaviyo Email Templates help with just that.
Email lets you communicate with potential leads, and your existing customer base ultimately driving traffic back to your website. For instance, you can add vital information to your Email Footers.
However, to be able to launch your email marketing, you have to have a good design template for all occasions, including holidays like Thanksgiving. And here's why Klaviyo might just be the solution that you're looking for.
What is Klaviyo?
Source: Klaviyo.
Automated emails generate four times more revenue and eighteen times greater profit margins per recipient than any kind of email. So, it helps keep a constant communication effort with the customers, leaving them wanting to engage and come back.
This is what Klaviyo was created for.
Founded in 2012, Klaviyo is an email and SMS Marketing Automation Platform that was created to simplify marketing efforts. It does this by offering you a wide variety of selection of templates to use for your email marketing.
So, using Klaviyo Email Templates gives you the following benefits:
Provides you with professionally made customizable templates to help you increase sales using data-supported best practices.
Helps you save time with its intuitive drag and drop editing feature that lets you create smooth and seamless designs that perform.
Helps you with creating an appropriate subject line through its AI assistance.
Gives you the chance to explore different designs.
Lastly, gives you inspiration and ideas for your email newsletters, sales, announcements, and more.
Klaviyo Email Templates are expertly designed to help you stand out from your competitors while establishing your brand. Thus, they help you communicate with your customers and talk to them like you know them – because you do.
By building this connection that lets you reach out to them in the moment, it helps build understanding, interest and trust. So it's in this trust where you gain more conversion and get to grow as a business or brand.
Klaviyo Email Templates and It's Credibility
Klaviyo helps you improve through its ever-improving performance features that show you benchmarks on how you can further progress.
Through its predictive analytics, it helps you connect more with your audience by allowing you to essentially project what they want over time.
A lot of brands have used Klaviyo to expand their business and email marketing potential. It has continuously proven itself on more than one occasion. So here are some of Klaviyo's excellent case studies!
Interested in Using Klaviyo Email Templates in your Email Marketing Approach?
Here are some of the templates you can use to increase your Email Marketing potential.
1. Welcome Series Email Campaign
Sending out welcome emails to your customers is a great way to start a good and possibly constant relationship with them. Such an email allows them to get to know you as you introduce your brand and deals while giving them a warm welcome.
Thus, welcome emails can be sent to your customers in two different ways. So, one is by letting them sign up through a form. Another is through a sign up form on a subscription page.
With Klaviyo Email Templates, you can easily use their pre-built welcome series flow that allows you to complete this with ease and convenience. All you have to do is to create an account, and that's it. Also, this feature automatically sends three emails to your audiences:
A welcoming email sent immediately to them after they sign-up. It's usually sent with a timed discount voucher or gift cards as a way to welcome them.
A follow-up email sent after three days, encouraging them to do a certain action. So this can mostly encouraging them to follow your Social Media accounts or to use the discount and cards given to them in the welcoming email.
Finally, another email sent after four days highlighting your best products.
2. Post-Purchase Email Campaign
Another effective eCommerce strategy is to do a post-purchase upsell, or an Automated Win-Back campaign in Klaviyo.
So, this Klaviyo Email Templates campaign refers to a series of emails targeted at customers who have interacted with your brand.
However, what makes it special is that it's targeted towards customers who've previously made a purchase, but who have never returned to your store again.
Thus, the system can easily predict which past customers are most likely to respond. This is based on factors like their order history and purchases.
One example of this is this easily customizable Mellow Yellow template from Klaviyo.
Source: Klaviyo.
3. Abandoned Cart Email Campaign
Last but not least of the Klaviyo Email Templates campaigns is the Abandoned Cart Email Campaign.
This is the campaign that worked best for the companies, Living Proof and Grind as mentioned earlier. So it's a type of email campaign tailored and personalized to a specific customer. Abandoned Cart Emails are about more than just a sale.
They're a chance to show your customers you genuinely care about their experience. Also, you remind them of the value they get from your products or services.
So, add product-specific content based on what they've added to their carts. Also, make sure to include any personal information you've gathered too, like their company name and industry.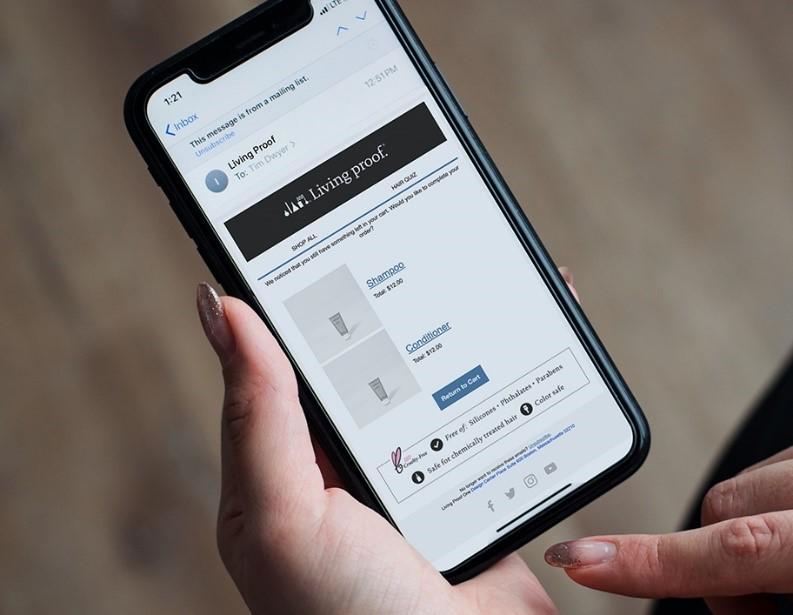 Source: Klaviyo
FINAL THOUGHTS
These campaigns are accompanied with a selection of pre-designed customizable Klaviyo email templates that you can choose from for your brand and convenience.
Spice up your email marketing game now by signing up on Klaviyo, and select or create a template that best works for you using your data.
To Email Marketing Specialists: own your growth now and use Klaviyo!