May 13, 2022
Email Footer Examples to Spruce Up Your Marketing Emails!
From formal messaging to Email Marketing, crafting a perfect, compelling email is truly important. Thus, you should check out some Email Footer Examples as a source of inspiration!
Emails have essentially been the backbone for communication across almost every industry, not just in the corporate world. Just check out ReallyGoodEmails' collections! However, if there's one aspect of emails that most have overlooked, it's Email Footers.
These may not be what you think of when writing emails to your subscribers or business associates, but they're essential nonetheless. So, marketers should use Email Footers to bring traffic to their websites!
This article will walk you through some good Email Footer Examples to use. Also, we'll discuss why they're so critical and some tips on how you can write them.
WHAT IS AN EMAIL FOOTER?
Email Footers, otherwise known as Email Signatures, are located at the end of the email. It wraps up all your content and gives the receiver the necessary information about you and your brand. It's essential to have Email Footers, especially in the corporate industry, because it helps build professionalism for your brand.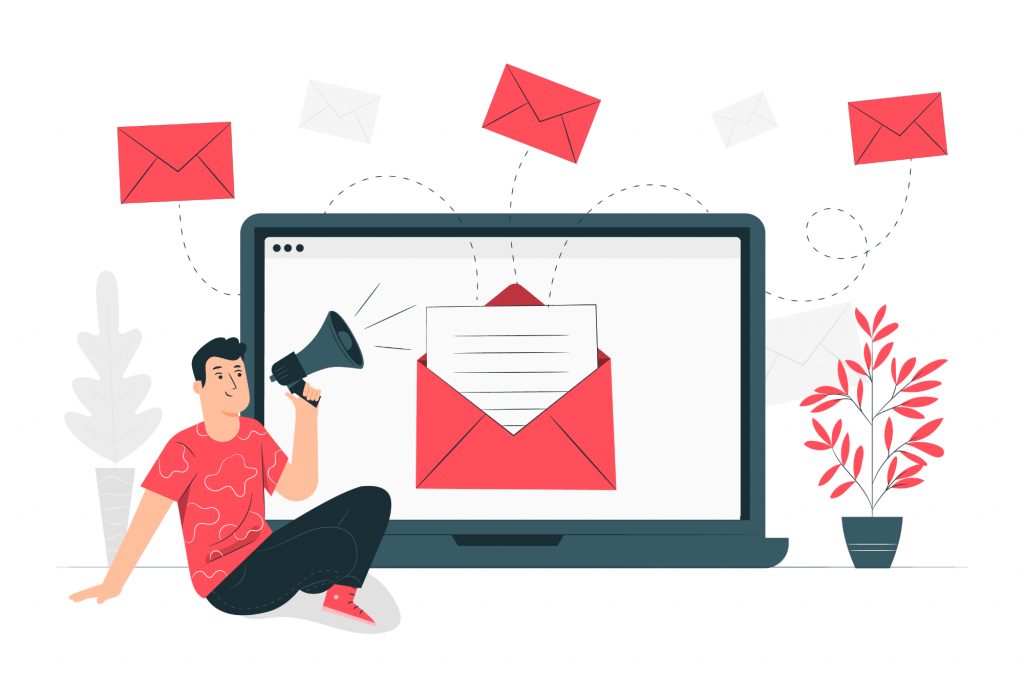 It also goes beyond and provides more specific information beneficial to both the recipient and your company. For example, an Email Signature might be as simple as your name and contact info. Or, footers can include valuable details like Social Media links, promotional offers, etc.
These are Things That You're Legally Required to Put in Your Footer Elements:
Your Contact Information & the Company's Contact Info
This includes:
your name and position;
the company's name;
contact details;
company address and/or mailing address; and
etc.
Link to an 'Unsubscribe' Option
Giving your audience or customers a way to unsubscribe from your newsletter can also benefit your company. After all, this removes their hesitation to subscribe to your Mailing List.
Permanence can be scary for most people, so an option for unsubscribing can drive recipients to subscribe to you more than you anticipate.
Your Company or Brand's Privacy Policy Link
Here's what a standard Email Footer Example from WiseStamp looks like:
Source: WiseStamp.
It's also helpful to add the link to your website. Since it gives your audience easy access, it increases website traffic from direct links through Email Marketing Strategies.
OPTIONAL ELEMENTS YOU DON'T NECESSARILY NEED BUT ARE USEFUL NONETHELESS:
Along with the legalities, you can use your footer to put items readers are likely to need. This includes the following elements listed below:
Social Media Buttons
Let your readers find you on Social Media by including share buttons. Of course, these should link to your Facebook, Twitter, LinkedIn profiles, and other Social Media pages in your Email Footer. Thus, they'll encourage recipients to engage with you further and get updates whenever you release content.
However, when linking accounts to your footer, it is best to remember:
Use Clickable Icons instead of longer links. Adding links in text form to your email may give it an unprofessional look. As a result, your readers may lose interest in you.
Link accounts that are active and well-maintained. This tip is self-explanatory. But, if you link inactive accounts in your emails, receivers tend to be less likely to follow you. After all, you don't really post or update that much anyway.
Add these icons below your email footer. Adding your socials can allow you to connect with them outside email's professional setting.
Marketing Footers
You can use your footer to promote other content releases, events that may soon happen, etc. Having a good banner and an enticing Call-To-Action can help you pique customers' interest. Therefore, you can encourage them to consume what you want to promote. Below is an Email Footer Example that demonstrates this.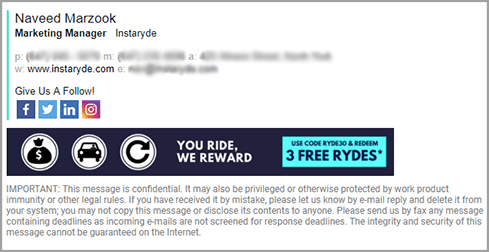 Source: Newoldstamp.
Disclaimers
In some countries, businesses must include a disclaimer in Email Footers. Before you add one to your own, check with your legal advisor about whether or not it's necessary. If not, skip it — the space is probably better used for other purposes. The same also applies to confidentiality statements.
For example, in this image, the message at the bottom of the footer labeled "Important" is a disclaimer.

Source: Newoldstamp.
Refer-to-a-Friend Options.
People who say they're going to refer you never actually do it. But don't let that get you down — what matters more is that referrals create a networking effect! Thus, it results in more significant, more profitable conversions. Also, according to statistics, referral leads convert 30% better than other lead-generated marketing channels. Additionally, referrals even have a 16% higher lifetime value.
You can achieve this with a couple of different methods:
Create Refer-to-A-Friend Promos; or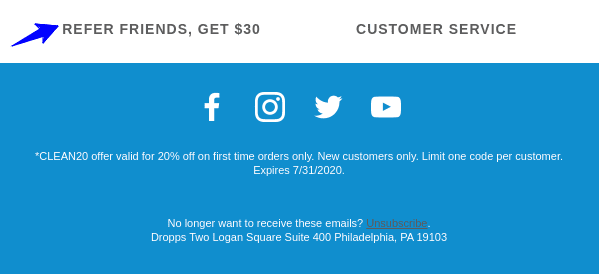 Source: Sendinblue.
Request your email to be forwarded to their friends.
Request recipients to add you to their address book.
Add a tiny line to the bottom of your email requesting recipients to add you to their address book. It will ensure that they don't miss any of your communications, thus increasing email interaction.
Also, it's good practice to mention it in your welcome email. Even better, notify recipients in the footer of your order confirmation email that adding you to their 'Safe Senders' list will ensure they continue to get order updates. Again, this will help your business or brand improve its deliverability.
Other things you can also add are:
An option to download if you have an app
A Thank You Note
Your brand's mission or values
Here are six Email Footer Examples from known brands that you might want to follow or take inspiration from.
EMAIL FOOTER EXAMPLES YOU'LL PROBABLY LIKE
1. Grammarly
Source: Mailsenpai.
As they say, simple is best, and Grammarly's Email Footer presents just that. It has all the necessary information a reader needs. Also, the footer shows it in a way that is easy on the eyes. So, readers can easily go through the email, respond to the Call-To-Action, and even click on the icons set.
Recipients can also easily change their mailing marketing preference and unsubscribe if they want to. Lastly, they can view it in a web version (if they're on mobile).
2. DC Shoes
DC Shoes' Email Footer is one example of a well-organized signature. Columns can help draw attention to different sections and services like the one shown below. In addition, subscribers may quickly scan this organization's website to locate information.
Source: Influencer Marketing Hub.
3. Apple
Adding a menu to your Email Footer is crucial, especially for long emails. As a result, it looks shorter, which prevents shocking readers with your email's length. It also helps keep readers from having to scroll back up again to get the links necessary for any purchase or subscription.
Source: Influencer Marketing Hub.
Apple also offers further information on products and what users need to get the most out of them in their Email Footers. As a result, it prevents the email copy from becoming clogged with legalese. Of course, customers want to know it, but it doesn't usually compel them to purchase. Just look at the above example!
4. AWeber
Source: Influencer Marketing Hub.
This example for AWeber is one of the cutest and most unique Email Footer Examples. It also helps you hit the target by straight-up asking your subscribers how they feel. AWeber uses only a few characters to do so.
You can use your Email Footer to work within your brand's personality and ask for many things. Moreover, it works for things that aren't even limited nor confined to the bounds of the email itself!
5. MiiR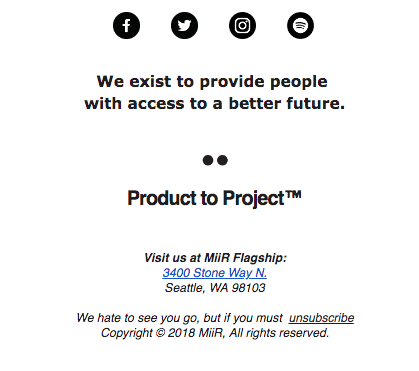 Source: Campaign Monitor.
You can also share your company's mission like MiiR does on their Email Footers. This helps remind their subscribers who they are and what they stand for. Also, it contains necessary information, and their unsubscribe message is also one excellent example of Email Footers.
6. Alaska Airlines
Establish your brand by putting brand imagery on your Email Signatures like Alaska Airlines. This is what makes their email stand out. Although they don't have a wordmark, anyone who has flown with them will recognize their tails. They also invite their users to follow them on Social Media in a humorous way.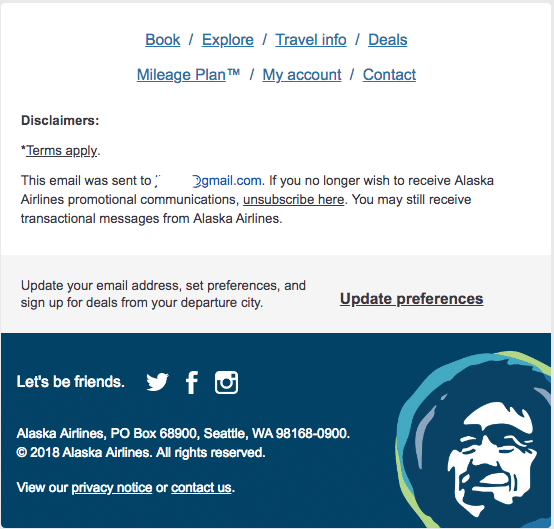 Source: Campaign Monitor.
FINAL THOUGHTS
In conclusion, Email Signatures, as seen from the Email Footer Examples shown in this article, are a way to wrap up your message without really ending it there. Thus, it allows for a more open (and fun) conversation! Also, it gives readers an alternative way to access your content, information, and services.
Start writing good Email Footers now, and give your customers the best professional experience in one email. Also, you can combine your excellently-designed Email Footers with Automation Tools to reach and potentially convert a wider audience. And soon, you'll be continuously sending emails to a robust and engaged Mailing List.