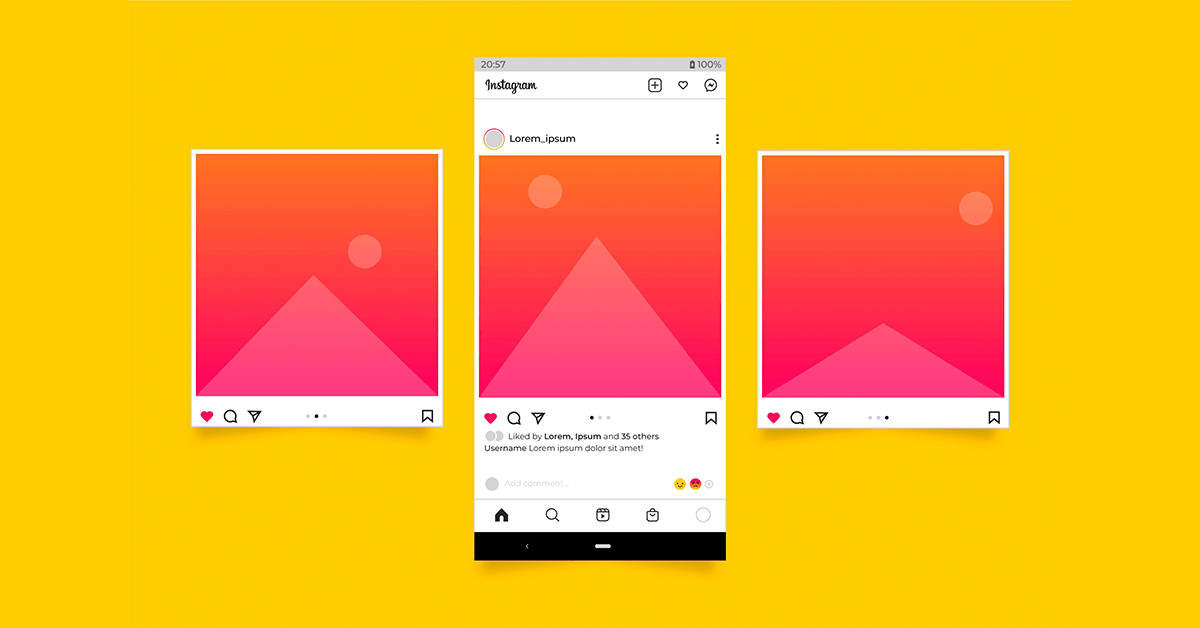 January 7, 2022
Instagram Carousel Posts and Tips on Crafting Them
If any Social Media content types drive up traffic, they're usually the visual type. For example, pictures, short videos, and infographics! This is because human brains can soak up visual data 60,000 times faster than text — in terms of time, processing an image lasts about 13 milliseconds. So before you can even breathe for a short speech about a topic, a person could get their bearings with a single picture! And naturally, this makes image-based content a big draw for any Digital Marketers looking to hook Instagram users onto their brands. Thus you should learn more about how to cater to Instagram users with the help of this type of post. So whether you're a Social Media Marketing pro or not, here's our guide to Instagram Carousel Posts!
Instagram and Carousel Posts
Many people globally are aware of Instagram, as well as IGTV. It's such a popular Social Media platform that it's estimated that by 2023 there will be "nearly 1.2 billion Instagram users worldwide." A few months ago, Instagram rewarded their massive user base with a fair amount of new features! These features included Instagram Collabs for partnerships and Insights for business analytics! Additionally, Instagram has Carousel Posts.
Instagram's Carousel Posts are somewhat similar to Stories in that you get to see a collection of images instead of going to various posts for them. However, there are a few key differences:
You get to tell a cohesive story in pictures!
It lets you tell that story in several parts yet also allows it to shine one image at a time.
Hooks your Instagram users onto the narrative you're spinning.
It also allows you to use your design skills to attract the eye!
Additionally, if a user doesn't get hooked with the initial image the first time, it can show up again, this time with another image.
At its core, Instagram's Carousel Posts are an excellent way to display a narrative that can call your users to action.
Top tips for making great Instagram Carousel Posts
Follow the usual copywriting procedures!
You might be thinking, what's copywriting got to do with this? Instagram Carousel Posts are all pictures! Well, you'd have to think twice! Your posts tell a story. A picture paints a thousand words, and you've got about ten in a single Carousel post! So, when creating content, don't forget your equally traffic-boosting Social Media captions!
First impressions are essential!
Instagram Carousel Posts is unique because the first image will be Instagram users' first impressions when they encounter your post. So basically, it's like the title or headline. Since they hook in more Instagram users, you have to pick the best image of the bunch that explains everything about the post.
Subtly prompt viewers to keep flipping through the post's images.
Once you've got your Instagram users on the hook, the remaining Carousel images in the post have to keep them entertained. So, you can input a Call-to-Action! Maybe an arrow or a little "flip to the next one!" at the bottom of the image will do. But however you prompt your Instagram viewers, they must realize that there's more in store for them!
Make each image stand on its own yet still be part of a bigger story.
At times, a single image from an Instagram Carousel post can be sent or seen by other users. So, it's best to design your images to avoid confusing potential customers, especially if only one image gets shared! Also, you have to ensure that each has matching palettes, fonts, styles, and basic templates.
Scale back on the information you're sharing on the post.
Less is more. While pictures can convey a lot of information, make sure you don't dump too much info at a time! So, summarize knowledge into a phrase or two. Ensure that images details are clear to the viewers. In sum, give your Carousel Post enough room to speak for itself! Otherwise, you may end up driving away your audience.
Remember the principle of accessibility!
Accessibility isn't just for Instagram users who are vision-impaired. It also benefits people who can't load in images as quickly! So, it's recommended to have alt text and image descriptions on your images. Websites should load in less than five seconds, so it's safe to assume the same happens for Instagram, not just its Carousel Posts!
Lure in your Instagram audience with excellently-crafted content!
Instagram content mainly deals in visual media. Visuals can hook in Social Media users better than pure text. In truth, Instagram Carousel can entice potential customers to learn more about your brand as it tells a cohesive story! Of course, your design and copywriting principles should support the post. Plus, you have to ensure that each image can speak its own truth. Additionally, a great thing about Instagram Carousel Posts is that if it can't draw the user's eye with one particular image, it can show up again another time with a different picture.
So, Instagram Carousel Posts can help boost your Social Media Content Marketing endeavors! Whether it's for marketing a brand or educational purposes, Instagram bridges your story and user engagement!