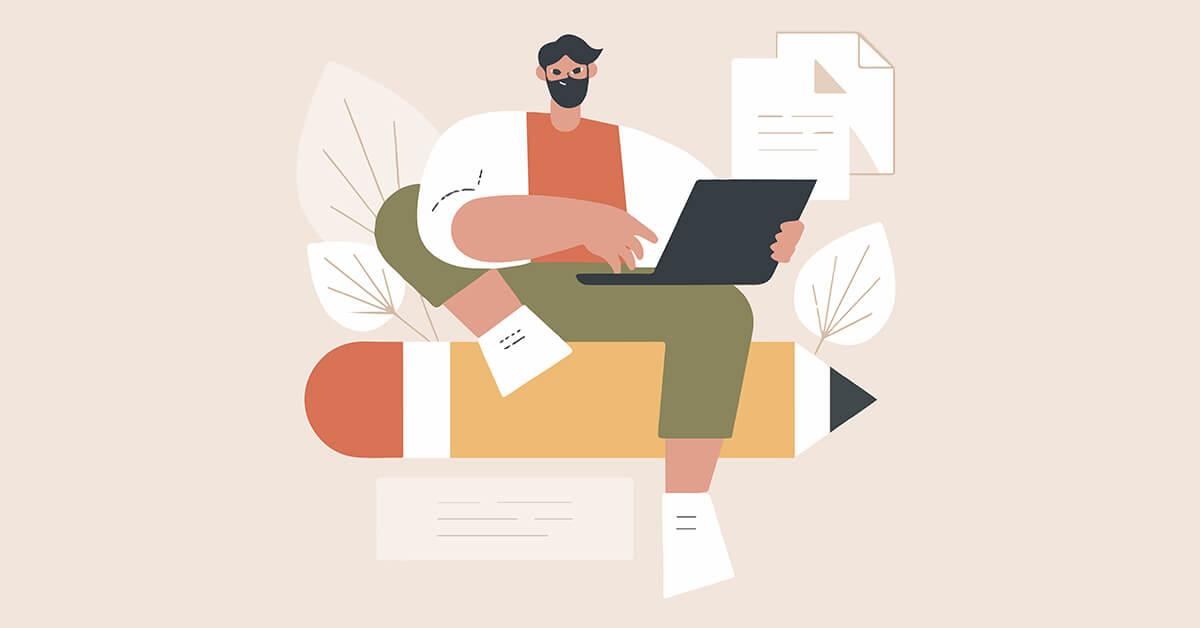 February 15, 2022
7 Tips for Writing Great SEO Content in 2022 And Beyond
In this article, we will discuss seven tips on writing great SEO content for your website.
Building backlinks is important for any website. No matter how great content you have published on your website, if you don't build backlinks, your website won't rank higher on SERPs, and you won't be able to attract eyeballs either.
The good thing about building backlinks is that it's both easy and fun to do. For example, you can work on proven strategies like "Guest posting" to ensure that you can get authority backlinks in the shortest possible time.
Remember you have to write amazing guest posts if you want to maximize the results of your guest posting strategy. No publisher wants to publish fluffy content that doesn't provide any value to the reader.
How can you ensure that your readers love your guest posts? How can you guarantee that top websites would accept you as a guest writer? If you want to how you can achieve these goals, keep reading to find out more!
Choose the keywords carefully.
Keywords play an essential role when writing great SEO content. Take a look at the websites that rank on top of SERPs. It's not hard to find those top websites that ensure to optimize their content for keywords.
Finding keywords is not as difficult as you might think. If you are new to the world of digital marketing, you can rely on free tools to get things done. But you can go for paid tools used for keyword research as you start getting results with your guest posting strategy.
Remember that it will take a lot of time and effort to optimize your content with proper keywords. If you don't have free time to learn new things and implement your strategies, you can hire writing services like www.globexwritingservices.com, so you have more free time to focus on other important things.
Start with a draft
What if you think that you can start writing great SEO content right off the bat? The problem with writing anything that comes to your mind is that it won't help you build a great connection with your readers. So, you have to ensure that you provide relevant information and don't beat about the bush in your content.
The only way you can be content relevant to a single point is by coming up with a draft before you get started. Drafting before writing your SEO content is not that difficult to do. Once you build the habit of writing drafts, it will get easier for you to create content on the go.
Also, when coming up with a draft, you also have to ensure that you follow the "What's in it for me" mantra. Upon looking at your content, your reader should get the feeling that you are about to share something valuable for them.
Think about your target audience
Remember that writing a guest post is all about staying relevant to your readers. If you think you can please everyone with your content, remember that it won't help you get anywhere.
Make sure you pick topics that are relevant to your audience. Instead of choosing topics no one will be interested in, pick topics that your readers would find interesting.
How can you ensure that the topic you choose is good for your audience and gets approval from your publisher? First, make sure you read the "Contributor guidelines" before picking any topic.
Provide all the details
When writing guest posts, you should ensure that you pick topics that are valuable for beginners. Likewise, you should avoid choosing topics that are only valuable for those people in your target industry who know many details about the topic being discussed.
But when writing guest posts for newbies, you don't have to think that you can go around skipping the details. The only way you can keep your content valuable for your readers is by taking care of all the details.
Pick only those topics for your guest posts that you understand yourself completely. With this, your content wouldn't sound as if it was written by someone who doesn't know what they are talking about.
Structure your content carefully
Writing guest posts comes with the responsibility to make your content fun and engaging for your readers. So how can you ensure that when your readers start reading your content, they read it all the way from start to end?
A simple way you can achieve this goal is by structuring your content properly. For example, make sure you make proper headings and subheadings to make your content easy to digest. You can also add bullet points to your content to make it flow naturally.
Add authority links to your content
How can your readers believe in what you have to say in your content? The truth is that unless you are the owner of a huge brand, you won't be able to make your readers believe in what you write in your guest posts.
But being a small business owner doesn't mean that you don't have to write guest posts at all. To improve the value and credibility of your content, you should add High authority contextual links to your content as well.
Doing so will not only make your content interesting to read. Search engine crawlers will also understand that you wrote your content after doing research.
Edit your content carefully
Do you plan on sending your guest post to your target publisher after writing it? If you don't edit your content properly, no blog would accept and publish your posts.
Spend your time editing your content the right way. You can use tools like Hemingway App to ensure that your content sounds good to the readers. Similarly, you should also use an online plagiarism checker to make sure that there is no accidental duplication in your content.
But what should you do if you have not yet polished your skills in writing content? What if you are unable to identify if you've made a mistake when writing? A better option, in this case, is getting help from a professional editor.