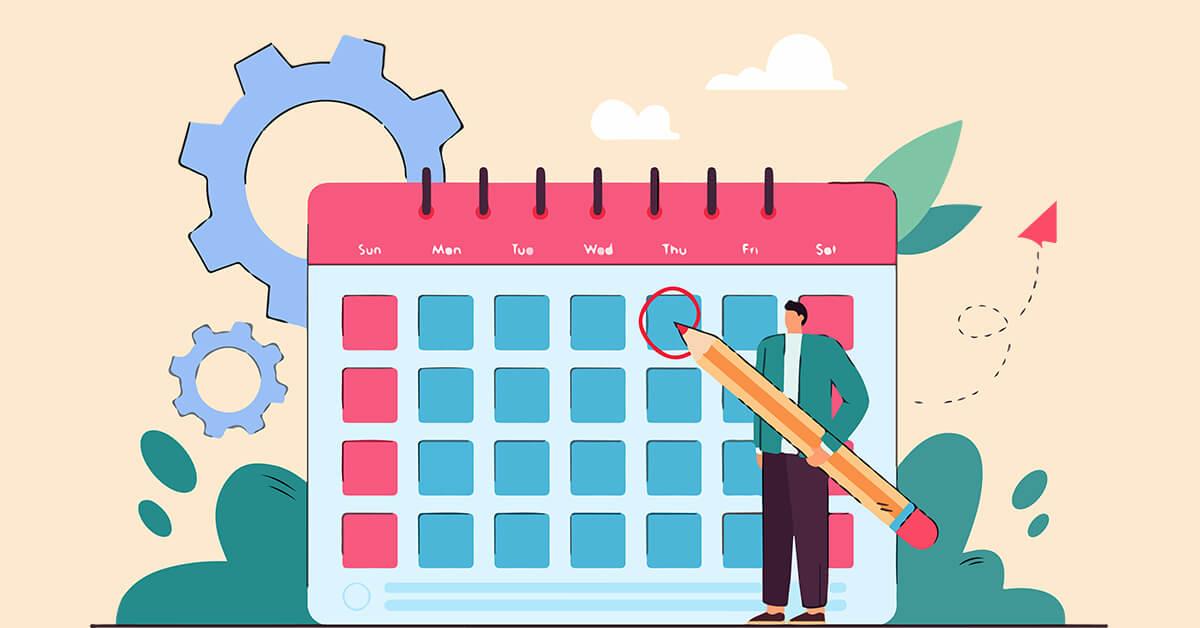 January 10, 2022
A 2022 Marketing Calendar to Guide Your Digital Marketing
2022 is a new business year chock-full of possibilities. Chances are, you've drawn up, modified, and are currently enacting your plans! However, success is all about timing. One can only maximize your business' Digital Marketing efforts with a calendar — specifically, a Marketing Calendar. Of course, assembling an entire calendar from scratch can be a little daunting. After all, that's 365 days (give or take) of holidays, observances, special events, and more! To maximize your marketing, you need something guiding your content! Of course, you can schedule your Digital Marketing posts with a 2022 Marketing Calendar.
What's a 2022 Marketing Calendar?
One good thing about special days is that they remain essentially unchanged from year to year. However, certain holidays have to be decided a few months before the day. But they constitute only a fraction of those holidays.
Tailoring your approach to special days is an excellent method to attract customers' attention! For example, 49% of people say they're "more likely to purchase from retailers who sent personalized content and/or offers" for the Christmas holiday season.
If you have a preexisting Marketing Calendar template, then you've already got a head start for a Content Marketing guide! (Just double-check dates to ensure that everything is in order.) Scheduling your DIgital Marketing posts has never been so easy!
Why is a Digital Marketing Calendar so crucial for your business?
A Marketing Calendar — in general, not just for 2022 — can be modified to assist your business' Digital Marketing strategies. Every month presents new and varied opportunities to incorporate your themes! In addition, seasons, special holidays, and even religious observances can boost your business's Digital Marketing strategy. In general, it's a guide that helps you incorporate Content Marketing trends as needed!
Of course, you can use a 2022 Marketing Calendar to schedule your Digital Marketing posts. So while a Social Media calendar is helpful enough on its own, your Digital Marketing exploits will cover more than just your socials!
Creating a 2022 Marketing Calendar
So many Marketing Calendars guide your Digital Marketing Content are available on the Internet! For example, we hear that Search Engine Journal has quite a comprehensive 2022 Marketing Calendar for your business.
When scheduling your Digital Marketing exploits, you don't have to set your posting schedule in stone. Also, when dealing with your 2022 Business Calendar, you don't have to spend more than an hour prepping your posts or special promotions every day. You can always check on your 2022 calendar once a month to plan out your Digital Marketing strategy. Monthly planning is already enough to ensure the effectiveness of your Content Marketing guide!
Using holidays in your Business Calendar
Your 2022 marketing calendar will guide you throughout the business year. Social Media Managers will surely stay on top of trends with one. If you plan for the holidays throughout the year, your marketing will be all the better for it! Having a Marketing Calendar may only be one strategy, but it can only help you achieve your 2022 business goals.
Strategies that include holidays that are relatable to your business or brand:
Check out particular holidays, government or otherwise, and find which ones you can use as opportunities to promote your business.
Once you've narrowed down your holidays, figure out how best to handle the Content Marketing for each.
Since you shouldn't set your strategies in stone, you are free to modify and adjust as needed.
Apply imagery or themes of chosen holidays to your Marketing Content! Then, creating content for holidays will be a breeze.
If applicable, you can even tackle the more serious topics. Thus, you can use particular events or observances to raise awareness.
A 2022 Marketing Calendar can even help you stay on schedule if you're developing seasonal or holiday products!
You can incorporate promotions for certain holidays, such as a restaurant celebrating National Buffet Day! (Here's the complete list of food-related holidays, in case you need it.)
Also, you can suggest new holiday-themed products or promotions on multiple channels such as email or mobile.
Use a calendar to guide your content strategies!
With the new year comes the continuation of your Digital Marketing exploits. Not only do you have to learn from your mistakes, but you must also expand on current strategies. Content Marketing is no joke, and you need a guide to maximize its effectiveness. So for 2022, you need a Digital Marketing Calendar that can help you plot your business moves!
Now, scheduling your digital marketing posts can get complicated, as there are many holidays in a year. Thus, it's crucial that, when creating a 2022 Marketing Calendar from scratch, you incorporate holidays and events that relate to the nature of your business. Also, if you already have a calendar, it's all right to double-check particular holidays that change around from time to time.