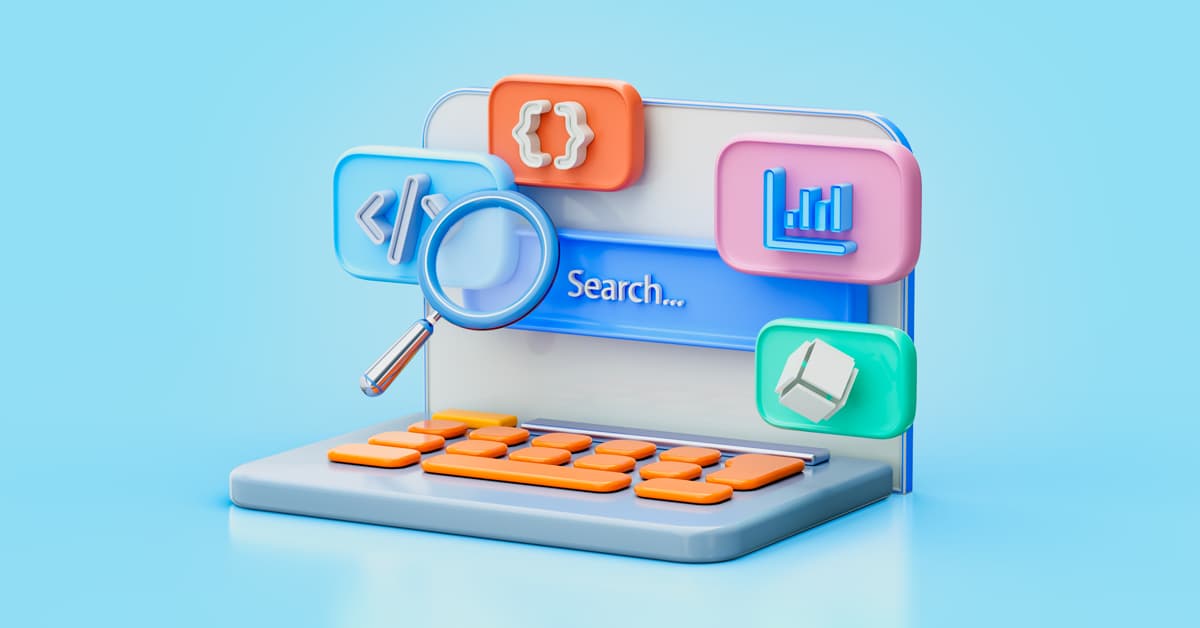 May 8, 2023
Why Use Zero Search Volume Keywords?
The right keywords or -phrases are instrumental in marketing your products or services online. Many Digital Marketers avoid targeting Zero Search Volume Keywords because of their unpopularity. However, with the right intent, keywords with no or low Search Volume can add value to your SEO Strategies.
If you've been doing Search Engine Optimization for a while, attaining high search rankings is easier said than done. Maintaining your place in Search Engine Results Pages (SERPs) can be even more challenging. It's why you must carefully consider the Search Volume of your targeted keywords or phrases.
A keyword's Search Volume shows how many people are searching for it. It's a crucial metric for measuring interest in particular queries or keywords. For instance, keywords with high search volumes have more competition, so they're more challenging to rank for
It's ideal for SEO Experts to find keywords with high search volumes but low competition. One great way to achieve this is using Long-Tailed Keywords rather than short, generic phrases to avoid Keyword Cannibalization. However, you can also turn to keywords with little to no search volume.
What are Zero Search Volume Keywords or Queries? Are they Worth Targeting?
Zero Volume Keywords are queries that aren't searched often or at all, so nobody is actively trying to get answers. A Keyword Research Tool can indicate a particular query's Keyword Difficulty, or if it has zero searches.
SEO Specialists don't optimize their websites or content for keywords nobody searches for. However, Internet users search for brand-new keywords all the time! Every query — including the ones with high search volumes — started at zero searches.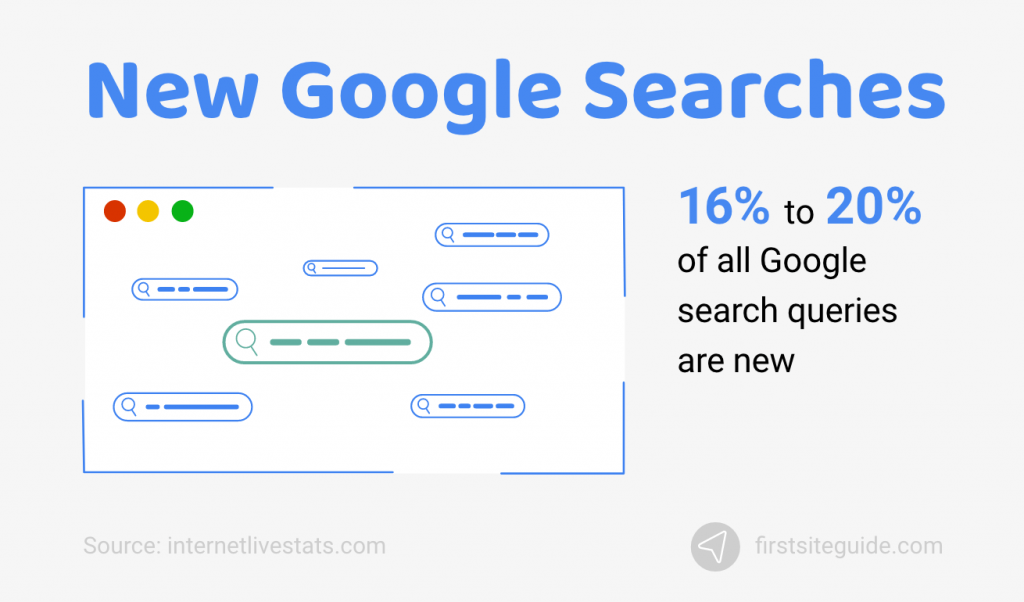 Source: FirstSiteGuide.
Many SEO Experts will avoid keywords with high competition and try to rank for longer queries. On the other hand, Zero Search Volume Queries have very little competition and are often, niche, Long-Tailed Keywords.
The Benefits of Targeting Zero Search Queries
No matter your business' age, industry, or size, ranking for competitive keywords is challenging. For instance, you need to follow the Expertise, Authoritativeness, and Trustworthiness or E-A-T Principle in SEO.
But did you know that you'll have higher chances of success with less popular keywords? The higher a keyword's Search Volume, the less clear its Search Intent.
A keyword's Search Intent allows SEO Specialists to determine what website content type is helpful to a user. For example, if a searcher types up 'SEO Specialist,' there may be several reasons why they're looking it up:
Are they trying to learn what an SEO Specialist is and does?
Are the searchers trying to hire such an expert?
Do they want to become an SEO Specialist?
But, if you type 'SEO Specialist Skills You Need for Success,' the individual wants to find Informative Content. Thus, you can add this subject and related topics to your website content pool accordingly.
Zero Volume Queries can benefit your SEO efforts by targeting niche topics despite their low volume. Here are other ways these keywords can boost your SEO:
Zero Volume Keywords Have Less Competition
Competition for keywords is one of the most significant considerations when trying to rank your content on SERPs. Even if you follow the best practices for On- and Off-Page SEO, you might still get outranked.
Fortunately, Zero Search Keywords are often not generic and contain more words than the average query. Optimizing your website for these keywords to rank higher on SERPs or create Rich Snippets via Passage Indexing.
However, some tools may not pick up on some Zero Volume Queries. Not only that, but the query may grow in popularity later on. As a result, targeting these keywords will give you an advantage over your competitors.
Using this keyword, you can post your content ahead of time and get a headstart ranking for the term. After all, you'll be one of the first sources to establish your presence on that search results page.
Zero Volume Keywords Generate More Organic Traffic
Not only are Zero Volume Queries less competitive, but they can also directly result in more traffic. Naturally, a steady stream of organic traffic is necessary for conversions like gaining leads and making sales.
Your brand may be ranking for keywords with higher search volumes, but you can snap up some less popular ones. Because more than 15% of daily searches are new or have zero volume, if a website doesn't target these queries, it may lose 15% of traffic.
By targeting these particular keywords, you can earn more organic traffic. As a result, you'll attract potential customers who are interested in Longer-Tailed queries, such as people who rely on Voice Search. Even keywords with little to no searches can attain high SERP rankings.

Source: Semrush.
You Can Target More Specific Audience Demographics
SEO Specialists can focus on tapping the ideal audience demographics with Zero Search Volume Keywords or Queries. You might not be able to gain a lot of new website visitors. However, you can get the attention of interested searchers ready to make conversion actions.
Because Zero Volume Queries have a specific focus, they're relevant to a particular audience. Of course, there's a chance that these queries don't have any engaging content attached to them.
If your site creates content for Zero Search Volume Queries, you can be among the first to rank for them. Thus, you can cement your authority on the topic before everyone else can. Keyword tools can't show how many people look up unpopular queries. But, you can always check on the keyword itself and indexed Landing Pages.
Competitor Research can give you insight into missing information in existing content on a particular subject. This missing content might be of great value to a searcher.
How to Find Zero Search Keywords:
These are the best ways to find specific keywords to level up your website's content pool:
Using Keyword Research Tools.
One of the most common SEO Mistakes is not using the appropriate tools. Keyword Research Tools show you an estimated monthly search volume for a keyword. These tools provide average volumes based on the past 12 months. You can use popular tools like:
Google Search Console, and other such tools like Keyword Planner, and Trends
AnswerThePublic
Ahrefs
Moz
Semrush
Ubersuggest, etc.
They're crucial to finding any query's search volume. You can even filter out some keywords depending on your strategies. Although they can help you understand search trends and find content topics, the information isn't always up-to-date.
Add Extra Words or Modifiers to Existing Queries
Zero Search Volume Keywords are longer and more specific than most queries. Often, you can create one by choosing a particular keyword and adding extra modifier words to it. These modifiers can include but are not limited to the following:
'Best'
'Top'
'New'
'Free'
'Cheapest,' etc.
As a result, you can generate Long-Tailed, Zero-Search Keywords with low search traffic. The longer your queries, the higher your chances of lowering their search volume. SEO Experts must select relevant keyword variations that can drive traffic to your pages.
Check Out Related Keywords and Terms
Zero Search Volume Queries are generally Long-Tailed queries, so consider checking out closely-related search terms.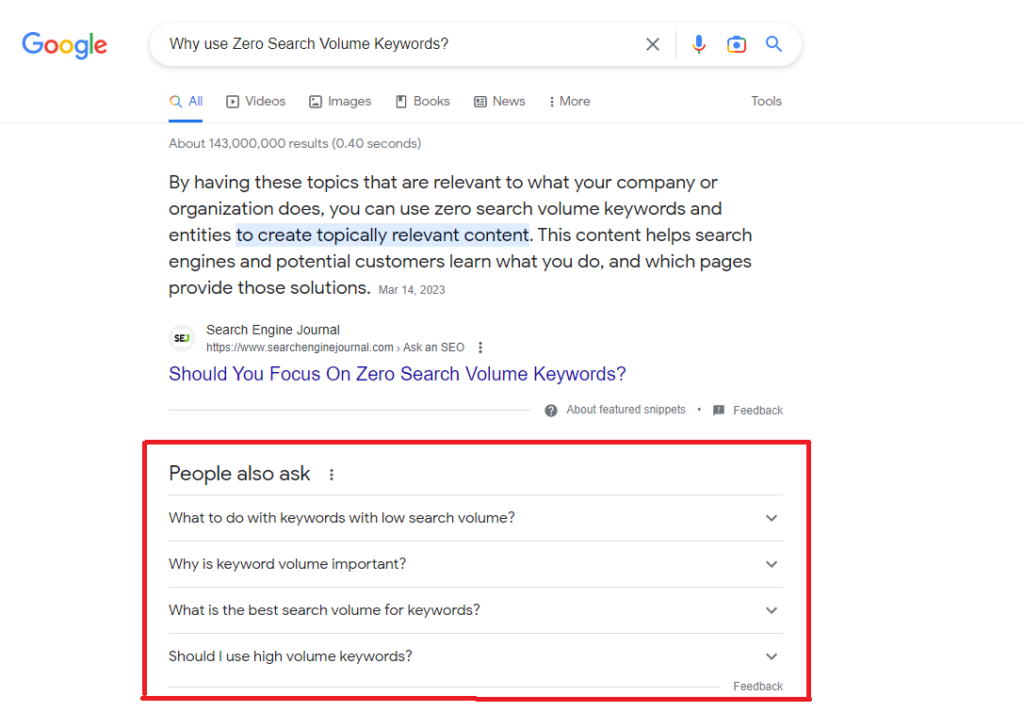 Source: Google.
You can also look at the 'People Also Ask' Section, which can provide deeper data and connected topics. These can be critical in producing website content for Zero Volume Keywords, and learning about Search Intent!
Consider Your Keywords' Search Intent
Not only should you check related terms, but also User Search Intent. You can't just create content for Zero Search Keywords without ensuring it's relevant to your audience. So, your target keywords should be relevant to the searchers' intent.
That way, you'll produce engaging content tailored to site visitors' needs.
Take a Look at Forums or Q&A Websites
Forums or Q&A Sites like Reddit and Quora can help you find Zero Search Volume Queries. They're the most popular, but you can choose other options if you find questions relevant to your industry or niche.
Examine Competing Keywords
You should also take care to check competing keywords. Even if your keywords have zero searches, they may still have competing yet related queries. You can check SERPs if other sites rank for the keyword, and if so, then you should avoid targeting it.
Take care to focus on using keywords your competitors don't have a monopoly on.
Bonus: Tips for Optimizing Zero Search Volume Queries
Zero Search Volume Queries are more subtle and require careful consideration of user Search Intent. If you need assistance, you can count on SEO Services to use Zero Volume Keywords in a successful SEO Marketing Plan.
Here's how you can utilize these queries:
Write engaging, valuable content that targets Zero Search Keywords.
Optimize your content for queries related to your Zero Volume Queries.
Use Social Media to help your Zero Search Volume Queries gain traction.
Final Thoughts
Competition, like Link Building, is only one of many factors that can lead to your higher content rankings. You must optimize your site content to target Zero Search Volume Keywords.
By targeting a keyword with few to no searches, you can target searchers checking out Long-Tailed queries. In addition, by using these keywords, you can tap into unique SERPs your competitors aren't monitoring.
You can utilize Keyword Research Tools to find such keywords and related queries. Achieve SERP position zero with the right Zero Search Volume Queries!