June 11, 2022
Video Sharing Platforms for Sharing Your Content

Let's face it. We're living in a digital age where videos from different Video Sharing Platforms are one of the most consumed content types around the world. You use it in almost any aspect of your life.
So whether you're using it as a reference for a lesson you're learning, a source of entertainment, or as a form of storing memories in an online archive over time – they're there, easily available for us to watch, share or use.
Video Sharing Platforms and their Marketing Potential
Marketers and content makers also recognize the potential that these videos bring to their brands and business. In fact, in 2020 alone, statistics state that 96% of consumers raised their online video consumption. 9 out of 10 of those viewers indicated that they wanted to see more videos about the brand or product.
From these numbers, 88% eventually lead to more sales, with consumers being persuaded to purchase whether it be the physical product, app, or software.
As such, it's undeniable that video platforms give both creators and brands an opportunity to share what they have with the world.
So, if you're looking to share your content online, here are five leading video platforms you can use.
Video Sharing Platforms to Post Content On: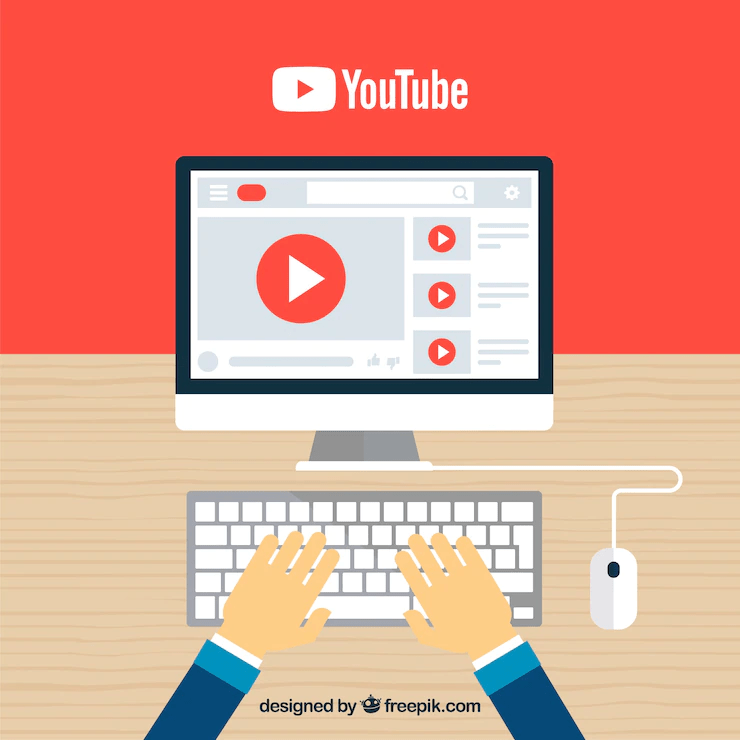 Although YouTube might not be the first to venture into the online video streaming market, it's easily one of the most successful video sharing platforms with over 1 billion hours of content watched every day.
It's even labeled the second largest search engine after Google, and the second most popular social media platform by Oberlo.
One of the reasons for the site's success is because of how accessible it is to the public.
Almost everyone you know probably and most likely has an account. And even without necessarily uploading any type of content, this is one of the biggest platforms where users consume any kind of video or media. Users worldwide can also easily create content for free with just a click of a button.
You can easily upload, view, create, share, add to a playlist, and engage with your community. It allows you to comment, subscribe to different channels, and keep up with lots of content.
YouTube also has several resources that support and promote creators such as its Academy, Spaces, and YouTube Creators. More than that, it also gives these creators the chance to earn revenues from their content through Google's AdSense.
How easy it is to start your channel, find any kind of video, and even earn on YouTube! So it's no wonder that it stands as the biggest video-sharing platform on the internet. Some tips for increasing your YouTube traffic include writing exciting titles, creating engaging thumbnails, optimizing videos for SEO, etc.
Source: Vimeo.
Following YouTube on the list of Video Sharing Platforms is Vimeo. This is an ad-free site that helps users host, distribute and even monetize their videos.
It's one of the most common YouTube alternatives, but it does stand on its own as a platform. Vimeo is known for catering well to its users, especially since they offer a site free of any ads, unlike other streaming platforms. Viewers here can easily focus on the videos and watch to their heart's content.
Unlike YouTube, users here can't monetize on the video through ads.
Their monetization system mostly runs on a tip jar button, where earnings are based on a model of video on demand.
The upside to it, however, is that it supports a wide variety of video formats. Vimeo lets you upload and browse high-quality videos for free.
They also offer and feature a customizable HTML5 video player that you can easily embed in your website or anywhere that you might need to. However, there are certain restrictions considering that they run on a subscription level basis. Their free account provides up to 500MB per week, while their subscription plan starts at $7 per week.
Source: Dailymotion.
Another popular video platform that people tend to use is Dailymotion. With 250 million unique monthly users, this streaming site allows users to browse different kinds of content. You can discover videos live or watch videos on demand. So topics include sports, music fests, political debates, fashion shows, gaming live streams, etc.
Aside from that, one reason behind its popularity is because it offers multiple revenue-sharing models, including an ad-based system to its users.
This means that Dailymotion partners can earn revenue from videos, ads, and even embed views.
Partners also have access to analytics tools and a media manager to upload, edit and manage media content.
However, the only thing about it is that it limits file upload up to 2GB and an hour or two of uploaded content daily. Still, like YouTube, it is one of the best sites to upload and browse high-quality content.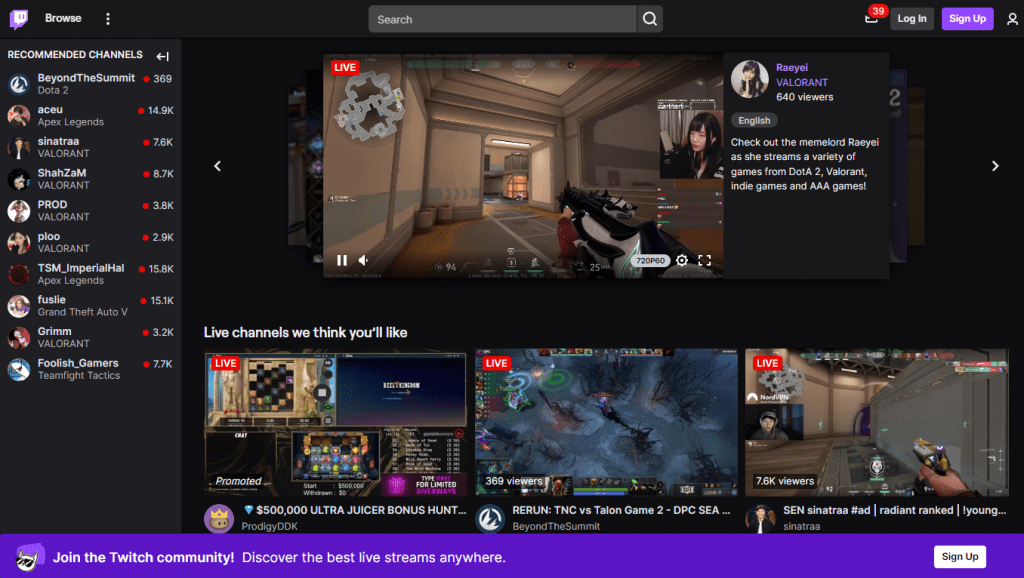 Source: Twitch.
Twitch is known to be one of the most popular live-streaming sites there is on the internet. It's mostly known to be used by gaming streamers. But like all other Video Sharing Platforms, this caters to all kinds of content as well.
Once verified, and legible, broadcasters can become affiliates to monetize their channels. As of the moment, Twitch, the Amazon subsidiary has over 2 million streamers and 10 million daily users.
One of the rising video platforms as of late is the popular app, Tiktok. Since it first came out, it has been a hub for short-form of video content. And from then, it's only been getting more creative.
Like YouTube, it is popular among the masses. This includes brands and even celebrities because of how easy and accessible it is to use.
It's a free video social app that makes it easy to create fun videos, and easily share them with anyone across all social platforms.
Many creators have used it to showcase their talents through comedy, literary or sports content, DIY videos, gaming stuff, real-life life hacks, and many more.
It's also been a popular platform for marketers, especially emerging brands, to introduce products to the public.
Popular content creators often earn generous amounts from the different brand endorsements, sponsorships, and influencer marketing. There's also plenty of free music at users' disposal which offers them the freedom to craft clips according to taste.
With Tiktok, you don't need to invest much, only your wit and creativity.
As a brand, it is easily an excellent platforms that you can venture into. It allows you to share your content and to help increase traffic or conversions in your business.
FINAL THOUGHTS
These different Video Sharing Platforms may differ in the way they introduce your videos. But, they are just a catalyst to sharing what you have with your audience, and with the rest of the world.
What matters most, of course, to gain traffic and keep your users engaged is being able to create quality content.
Here are some quick tips to increase your traffic among platforms:
Create a schedule for your upload.
Keep up with current Marketing Trends.
It's also advisable to create a content calendar to monitor content releases.