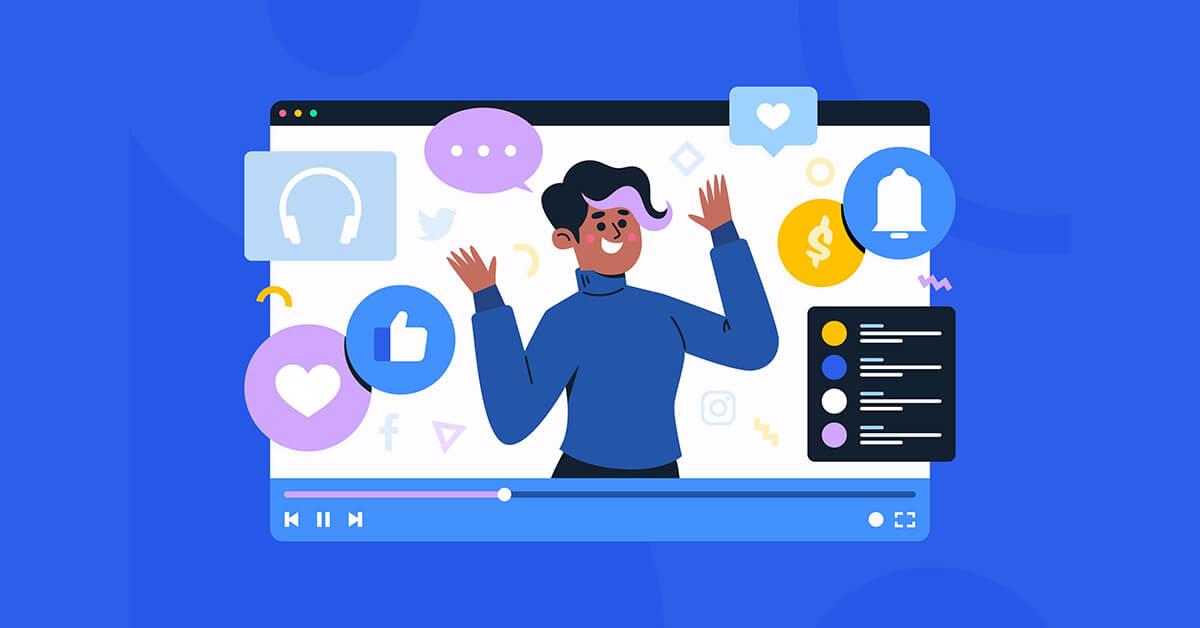 February 15, 2022
Is Online Video Marketing Effective?
Many marketers are still wary about using video marketing strategies as part of their marketing campaigns. Some think videos are expensive. Others say they do not have the time to create videos. Meanwhile, others do not believe that they need videos for their campaigns. So, in this article, we will clarify: Is online video marketing effective?
Source: Wyzowl.
What is Online Video Marketing For?
Consider the image below. Marketers create different videos for varying purposes. Some even consider video marketing as the future of digital marketing. As such, most people make videos to explain something. Aside from that, they also create videos for their social media posts. Finally, they also create videos to present their brand, products, or services.
Image Source: Wyzowl.
Now, as the world we live in continues to become more fast-paced, more people prefer to watch a short video clip about a particular product rather than read a 1000-word article about it.
Source: Wyzowl.
According to research conducted by Wyzowl titled Video Marketing Statistics 2022, "86% of businesses use video as a marketing tool." Furthermore, the study added that "92% of marketers continue to value video as an 'important part' of their marketing strategy." So, you can see why you should use video content as part of your marketing strategy for these reasons alone.
Source: Wyzowl.
Reasons Why Online Video Marketing is Effective
Below are some of the primary reasons why online video marketing is effective.
ONE: People Prefer Watching Video Content
Over the last ten years, more and more people have watched marketing videos. People watch a whopping one billion hours of video content every day on YouTube. Experts also predict that around 80% of web traffic will come from video content. However, if these numbers do not convince you, you will never know what marketing opportunities your business will miss.
Video content marketing is effective because it helps you showcase your business to your target audience. You can test out different types of videos to your audience so that you can determine which type they resonate with better.
With video content, you can tell your audience what your business aims for. You can also educate your audience about your products and services through tutorial videos or demo videos. Aside from that, you can also give them a glimpse of what happens behind the scenes. You can also feature your offices and your staff—the hardworking people that make the magic happen. Doing so will help establish that personal connection you need with your audience. Then, if you are successful, you can turn them into loyal customers.
TWO: People Engage Better With Videos on Social Media
According to a study published by SproutSocial, 50% of users prefer to engage with videos on their social media account. Below are the most popular social networks from all over the world, ranked according to their respective number of active users.
Source: Statista.
The top five social media platforms include Facebook, YouTube, WhatsApp, Instagram, and Facebook Messenger. Facebook alone has almost 3 million active users. That's 3 million potential customers for you!
As you can see, you should already start creating video content optimized for each of these platforms. You can use different orientations (portrait or landscape) for your video content. For instance, if you want to create an Instagram Story, you should create a video in portrait mode (vertical). You can even optimize your video content for Instagram Guides to attract more customers to your business.
It would be best to experiment with your video content's length. For example, you can publish a 10-minute tutorial video on using your product on YouTube, and it would work fine. However, it would be best to trim the content down to 3 to 5 minutes if you want to post it on Facebook. It would be best if you learned more about which video formats and lengths work best for each of these social media platforms.
THREE: People Rely on Video Content to Make Purchase Decisions
According to a 2019 study conducted by Google, "more than 55% of shoppers say they used online video while actually shopping in a store." Wyzowl supports this claim by stating that "86% of marketers say video has helped them generate leads." They also added that "96% of people have watched an explainer video to learn more about a product or service."
So, as you can observe, video content not only helps attract customer attention. It also encourages them to learn more about the product and, ultimately, purchase it. As such, when you create video content for your marketing campaign, make sure that you create engaging product videos.
Especially now that people are stuck in their homes because of the pandemic. They cannot quickly head out to your store to check out your products. With a product explainer video, you can educate them about your product, how to use it, and why they should use it. The goal is to convince them that they need your product to resolve their troubles. So, start publishing product explainer videos online so that your customers can check out your products even if they are at home.