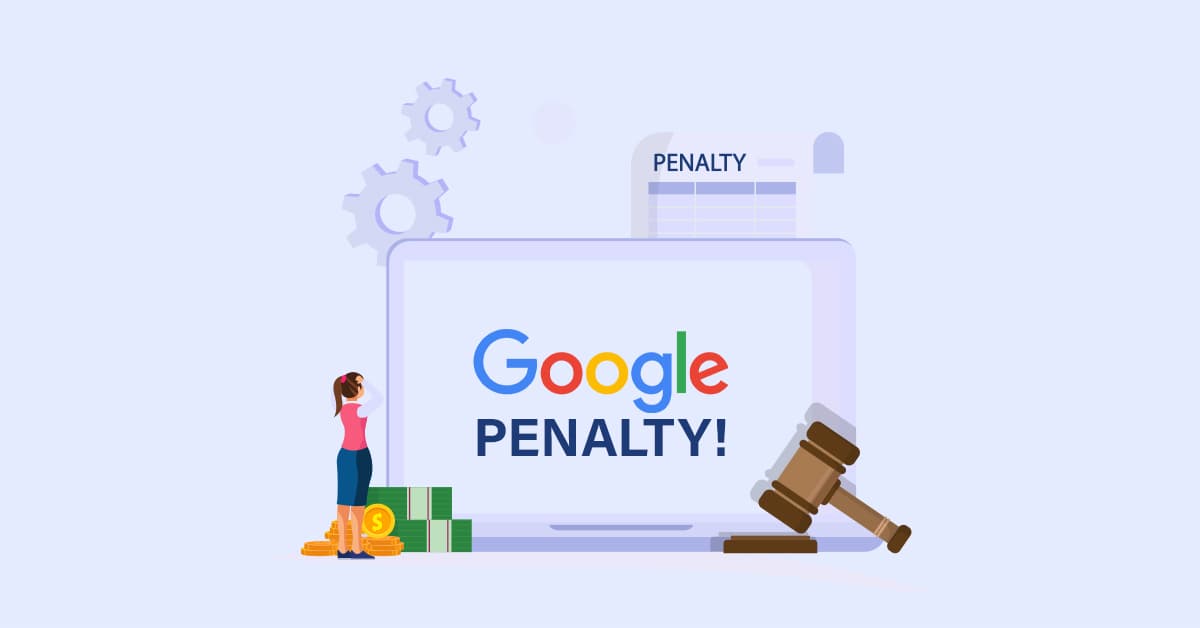 September 22, 2023
Google Penalties: What They Are And What They Mean
As much as we want our sites to be on the rankings, it's also essential to follow the agreed guidelines to ensure a seamless experience in establishing your name on the internet. However, if we end up violating the rules we may not increase the search engine rankings or be completely removed from Google's search results.
The penalties given come in different types. So it's important to take notes about the dos and don'ts which will be covered in this article. Mainly, we will tell you what google penalties are, how they work, and also how to avoid catching them.
What are google penalties?
Google penalties are penal actions that websites get once they violate specific guidelines and policies. Google does this to maintain quality of search results and ensure a positive user experience. When the penalty takes effect, your website will no longer be found by users and it can suffer a significant drop in the search engine ranking.
Moreover, as mentioned above, there are two primary types of penalties your website will get upon violation. Each of these sanctions are given after committing different sets of violated guidelines.
Algorithmic Penalties
For algorithmic penalties, they occur after a website gets negatively impacted in Google's search algorithms. When a website engages in practices that are against Google's guidelines, this leads to getting affected by algorithmic penalties such as Penguin, Panda, or Core Web Vitals update. Meanwhile, here are some practices that you should avoid from doing in order to increase the search engine rankings of your website:
Cloaking
Keyword stuffing and;
Acquiring low-quality backlinks
Manual Penalties
These violations are imposed by Google's human reviewers after manually evaluating a certain website and finding the website violating Google's Webmaster Guidelines. When a manual penalty is issued, Google typically sends a notification to the website owner through Google Search Console. The common reasons why manual penalties are imposed are the following:
Thin or duplicate content;
Spammy or unnatural links and;
Various forms of web spam
But it's worth noting that when your website loses ranking in search engines, it doesn't always mean that penalties were imposed. Google ranks websites constantly changing from time to time, and your competition also grows continuously. However, if you're concerned about potentially receiving penalties, you may need to improve your search engine optimization methods.
Avoiding Google Penalties
Fortunately, there are a couple of steps you can follow to avoid these penalties. Following these steps can make a difference in safeguarding your website. However, users should remember that the ultimate solution is to always get themselves informed about Google's guidelines and that users should strictly follow the rules agreed upon.
Here are some tips to remember to avoid these penalties:
Buying links should not be done
It's common to encounter users who sell links from private blog networks. No matter how useful the content looks, one should never bite into it. The main goal of this action is to simply create backlinks for people who actually pay the network's owner and increase the search engine rankings once and for all.
Regularly monitor backlinks
Regular checking of backlinks also helps. You can do this by using tools like Majestic or Google Search Console and check the status of your backlinks. If you happen to find spam links, it's always best to delete them.
Avoid keyword stuffing
It's best to stay to the recommended amount of keywords per word count. While boosting primary keyword density is perceived as good, Google also considers this behavior manipulative towards the algorithm. Basically, use your keywords naturally.
Ensure website responsiveness
Always make sure that your website is user-friendly and highly responsive on any device. Unavailability of mobile-responsive websites leads to a negative user experience. Consequently, it will limit your reach as mobile visitors will have a hard time accessing your website.
Conclusion
While Google penalties are somehow inevitable, there are always ways to establish a website that passes Google's standards and increase the search engine rankings. It's important to learn about the strategies such as E-A-T (Expertise, Authoritativeness, Trustworthiness) which mainly aims to boost your rankings. Overall, users should always orient themselves with the right guidelines and what they're supposed to do to maintain positive user experience.