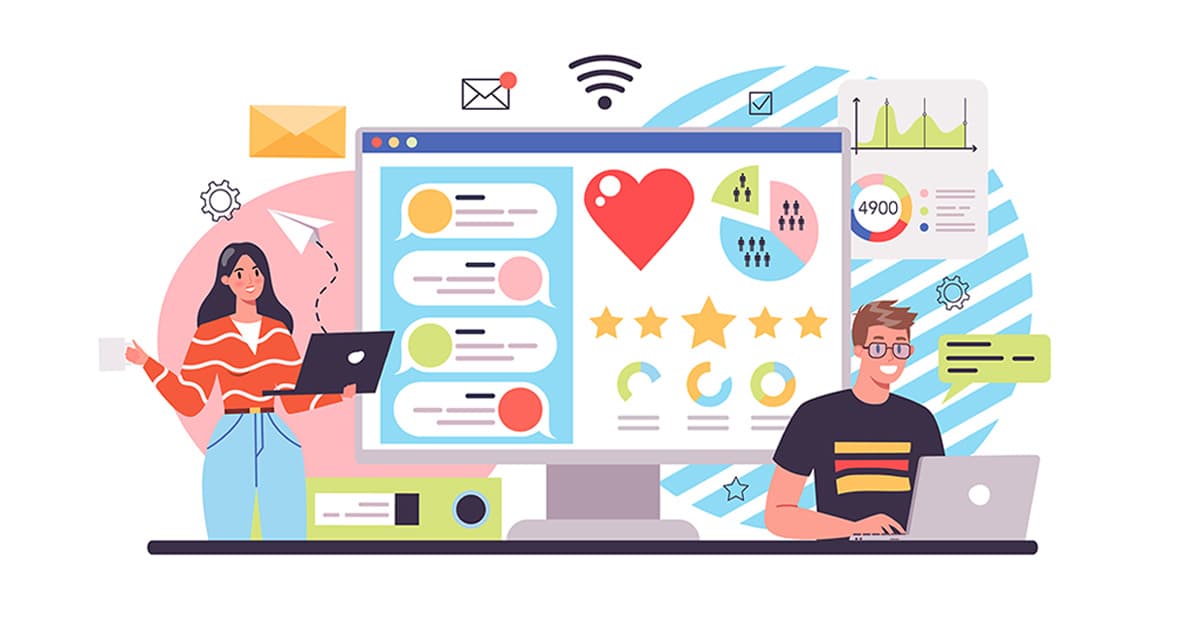 February 7, 2023
Google Ads Conversion Lift: A Guide for Paid Ads Marketers
Google Ads Conversion Lift allows advertisers to measure metrics driven by the audience who sees your advertisements. For instance, it can measure website visits and conversions. So, you can use the data to adjust your advertisements for the better.
Conversion Lift is a Google Ads experiment, similar to checking whether a PPC Test is a failure or not. However, unlike a PPC Test, a Conversion Lift study is controlled. So, naturally, you have a control and an experimental group. The former is the audience that receives your ads, while the latter doesn't. The study can separate the audience or group based on geography or users.
Thus, you can maximize your advertisements so they can generate even more leads and revenue. As a result of Conversion Lift data, a Paid Advertising Specialist can create improved campaigns. However, this hasn't been rolled out to all Google Ads Accounts, so you may need access from your account team.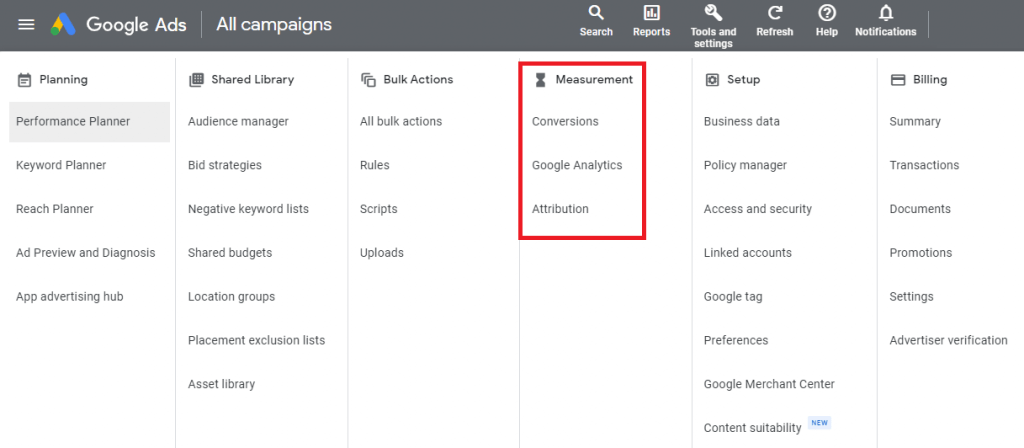 Still, if you have Conversion Lift and have App, Discovery, and Video campaigns, you're in luck! Conversion Lift is available for all three.
Why Use Google Ads Conversion Lift and How Does It Work?
Why Should Paid Advertisers Use Conversion Lift?
Of course, Conversion Lift measures the number of conversions caused by your ads that wouldn't have happened without them. Measurement is critical for your campaigns, so much so that it was one of Google Ads' priorities in 2022.
On average, the Google Ads conversion rates on the search and display networks are 4.40% and 0.57%, respectively.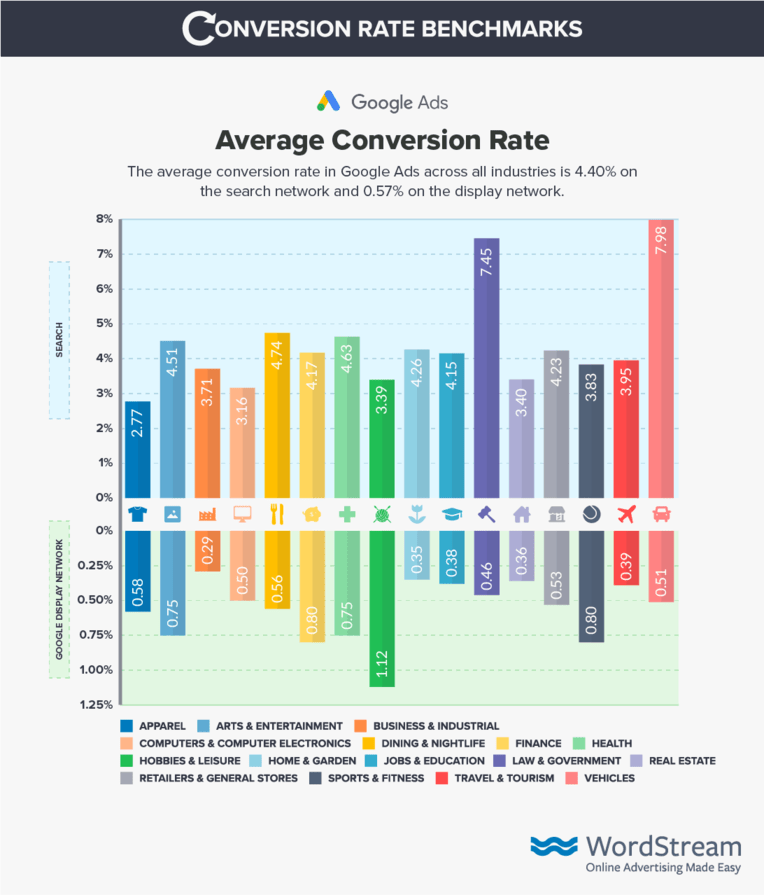 Source: WordStream.
Here are some of the more crucial reasons to use Conversion Lift:
Customer Journeys Have Become More Complex.
The average customer journey these days is more complex than ever before. For instance, nowadays, people are interacting with advertisements on various platforms on different devices.
As a result, Paid Marketing Specialists may find tracking each user's journey challenging. Fortunately, Customer Journey Analytics can help marketers analyze customer behavior over crucial touchpoints.
Google Will Phase Out Third-Party Cookies by 2024.
To further respect user privacy, Google will phase out third-party cookies in its browser "in the second half of 2024." While this action is a step in the right direction, this still means marketers have to change tactics.
Create Profitable Campaigns With Limited Information.
Because privacy is a priority, marketers must create better campaigns with new or different methods or metrics. After all, they won't be able to use their usual tactics to see what strategies are and aren't working. Instead, paid Marketers must work with what they have to boost their profitability.
How Does Conversion Lift Work?
Conversion Lift data measures conversions, site visits, and other metrics driven by audience advertisement views. It's similar to A/B Testing campaigns.
Of course, before using Conversion Lift, an advertiser's Google Ads account should be tracking a compatible conversion action. To detect the lift from campaigns, advertisers must meet the minimum estimated conversions at either the Brand- or Product-level.
Again, before you can start checking on Conversion Lift data, marketers need to create a Video, Discovery, or App campaign for a Google Ads platform. It's only after they start running that Google will split your intended audience into two groups:
Those who view your advertisement — the control group; and
Those who would have viewed it, but instead see the following advertisement in the auction. They don't view your ads initially, so they're considered the experimental group.
Once the study is done, Google will provide advertisers with the conversion data for both groups. It allows you to see which of the conversion percentages were caused by the ad in comparison to advertisements that occurred normally. Also, advertisers get reports on data about conversions arranged by type.
Conversion Lift Measurement Tactics
Google's Conversion Lift study utilizes the following measurement tactics:
Multi-touch Attribution;
Incrementality Experiments; and
Marketing Mix Models.
In addition, there are a few Conversion Lift Metrics to watch out for.
Conversion Lift Metrics
Depending on how many conversions you get, advertisers can see the following metrics via Google Ads:
Incremental Conversions or Absolute Lift;
Incremental Conversion Value; and
Relative Conversion Lift.
Conversion Lift Feasibility
Ratings are based on your account's estimated conversions. Advertisers can gain a high rating if their study has a 60% to 90% chance of providing accurate results. If your study has a 'Low' feasibility rating or a minimum detectable lift of 20% or higher, it's not recommended to run it.
So when it comes to your Conversion Lift study's feasibility, the estimated sum of your active campaigns' budgets and conversions measuring your product or brand should meet the 'High' rating.
Google Ads doesn't guarantee lift for various reasons, so it's best to set up a testing schedule that runs multiple studies throughout the year.
Google Ads Conversion Lift Setup: A Tutorial
Source: Search Engine Journal.
1. From your main Google Ads interface, select Tools & Settings or the Tools icon. A menu will appear, where you must select Lift Measurement under the Measurement column.
2. Start a new study by clicking '+' and selecting Conversion Lift. This is where your Google Conversion Lift study really starts.
Source: Search Engine Journal.
3. Next, you must choose whether the study is user- or geography-based.
4. Afterward, you can choose which campaign or campaigns to run for the study. Make sure to set up your start and end dates.
Source: Search Engine Journal.
5. You can review the study's feasibility on the right-hand side of the screen. It'll show the likelihood of the chosen campaign getting precise results. If the feasibility study's status is 'High,' you can be assured of a successful Conversion Lift study.
6. Once you're satisfied with the projections, you can save the study.
7. After saving, the study immediately starts measuring lift on your selected start date.
8. To view your measurement data, check the Lift Measurement table at the 'Brand' or 'Product' level. After clicking the Columns icon, select the Modify Columns option. Next, click Conversion Lift, then Apply.
Additional Tips for Setting Up a Successful Study
If your feasibility status isn't 'High' initially, consider changing the experiment's duration or optimizing the campaign or budget.
Also, if you can't select a campaign for a study, it may already be in use in another experiment. After all, a campaign can be active in only one Conversion Lift study at a time.
If you want to see granular measurement results, click on a specific Brand- or Product-level study.
Final Thoughts
Conversion Lift is a controlled study available for Discovery, Video, and App campaigns. Through several measurement tactics, Paid Marketers or Advertisers use it to test conversions or other metrics caused by ads.
How the Conversion Lift study works is that it splits your audience into two groups: one that views your ads and one that doesn't. Also, the experiment can separate them based on geography or a random user selection.
With Google Conversion Lift studies, Paid Ads Marketers can get the most out of their campaigns as customer journeys are more complex. In addition, third-party cookies will be phased out soon, but your ad campaigns must still be as profitable, if not more so.
Thus, Paid Marketing Specialists can consider Conversion Lift studies as a Google Ads Tactic to hold back competitors. So, improve your Google Ads campaigns for maximum conversions, sales, and leads today!