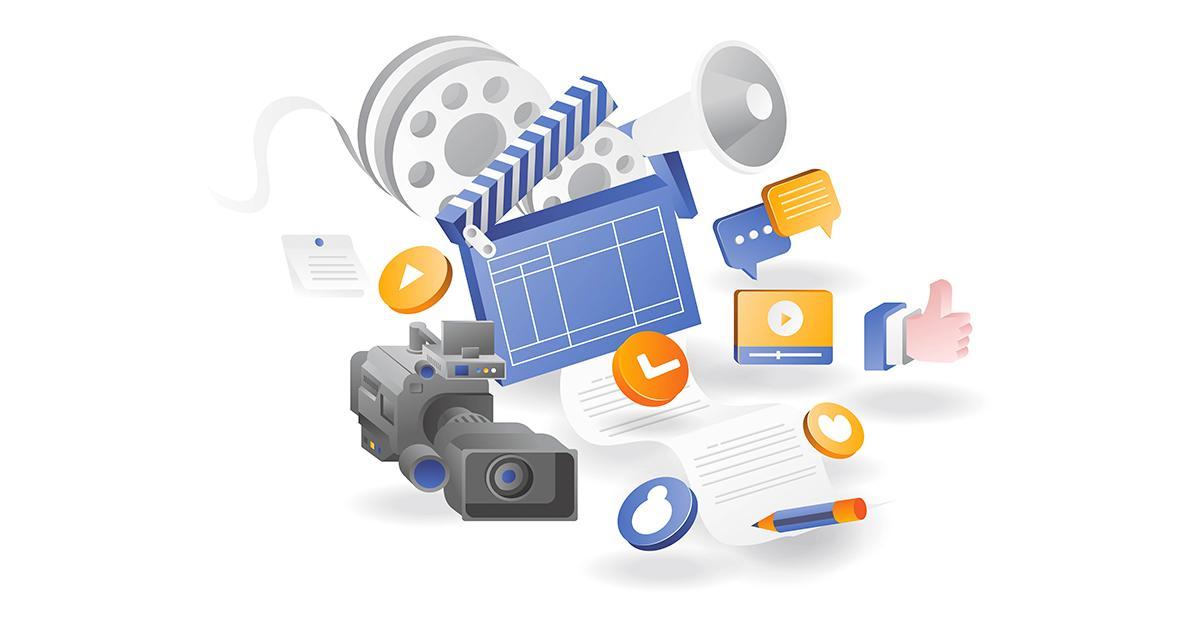 February 15, 2022
Best Video Marketing Tools To Use in 2022
Using video content has become one of the best marketing strategies businesses have been employing for the past ten years. For that reason, marketers use several tools or software to create video content. In addition, they also use tools to optimize video content for search engines and share them with their audience. Discover below some of the best video marketing tools you can use in 2022.
Marketing Tools to Create Video Content
Businesses consider video marketing as the future of digital marketing. Here is a list of some of the best video marketing tools you can use to create video content. 
ONE: VideoScribe
VideoScribe allows you to create fun and creative whiteboard videos to tell your story. It is also easy to use because it employs a drag-and-drop interface that makes creating video content quick and convenient.
TWO: Fastreel
Fastreel is an online video editor that allows you to edit your existing videos. You can create videos straight from your browser without downloading anything to your computer. Fastreel also lets you add royalty-free music, filters, text, and a branded watermark to your video content.
THREE: Wave.Video
Wave.Video offers thousands of stock images, audio clips, and video clips that you can add to make your video content. It is also easy to use, so you do not need advanced editing skills to create a video.
FOUR: Animoto
Animoto is another video editing tool to help you create video content for your marketing campaigns. Much like the others, Animoto has a drag-and-drop interface. So, you only have to add photos and video clips into their ready-to-use templates.
FIVE: FlexClip
You can create video content within minutes using FlexClip. The video editing tool offers its users stunning video templates to choose from to create video content for their business or personal use. FlexClip also has a screen recorder, slideshow maker, and a video compressor.
Tools that Optimize Content
Here is a list of video marketing tools that you can use to optimize video content to rank higher on search engine results pages (SERPs).
SIX: VidIQ
VidIQ is explicitly designed for YouTube video content optimization. Using this video marketing tool will help your video content reach the widest audience. So, if you want to have more subscribers and grow your channel, you should use VidIQ.
SEVEN: TubeBuddy
TubeBuddy is a browser extension and a mobile app that you can use to integrate with your YouTube account. You can manage your channel and optimize your video content through this video marketing tool. The tool allows you to modify your title and meta description. It also suggests tags and keywords that you can incorporate with your content.
EIGHT: Agorapulse
Another video marketing tool that you can consider using to optimize your social media channel's video content is Agorapulse. It offers hashtag discovery, topic recommendations, comments management, and content scheduling features.
NINE: DrumUp
With DrumUp, you can promote your video content on every platform with just a click of a button. It is also capable of going through your video content to develop new stories that you can tell to your target audience.
TEN: Canva
Who hasn't encountered Canva before? If you haven't had the chance to use this video marketing tool yet, then take this as your sign. With Canva, you can create attractive and engaging thumbnails to encourage users to click on your video.
Tools that Promote
Here is a list of video marketing tools that you can use to promote video content, build brand awareness, and increase conversion.
ELEVEN: Camtasia
Camtasia is a screen recorder that allows you to create videos using the clips that you capture on your screen. Thus, with Camtasia, you can create instructional videos or demonstrate how to use software, for instance. Camtasia also lets you add voice over, notes, animation, highlights, and effects to your video.
TWELVE: Shakr
Shakr is a video marketing tool that allows users to create video content without hiring a professional videographer. With Shakr, you can make personalized video content for your marketing campaigns. As such, you can customize your video according to your audience or marketing goal.
THIRTEEN: Promo.com
If you use Promo.com, you can create promotional videos using your photos, music, and video clips. The video marketing tool also offers ready-to-use templates if you're not yet ready to create video content from scratch.
FOURTEEN: Hippo Video
Hippo Video is a video marketing tool that allows users to monitor the performance of their videos online. In addition, it offers users real-time data about their marketing campaigns. lWith this tool at your disposal, you can ensure that your video content performs as expected.
FIFTEEN: Viewbix
Viewbix is a similar video marketing tool to Hippo Video. Viewbix also offers video analytics features to ensure that video content performs according to its previously set goal in the marketing campaign.
Before you leave, here are video marketing strategies you can use in your business.